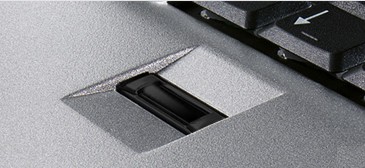 The emergence of the Netbook concept has created a new era in the computer industry. This light and easy computer gains popularity as it makes it more convenient for users to have wireless communication and internet access anytime anywhere. To tap the rise of this new electronic device, UPEK has announced its TouchStrip TCS5 Fingerprint Sensor, a biometric fingerprint scanner designed particularly for Netbook security.

The TouchStrip TCS5 Fingerprint Sensor can enhance the computer security by preventing unauthorized access via the iometric approach. Users need to get their finger scanned before allowed to access the netbooks. Together with the Fingerprint Sensor is the Fingerprint Suite Starter software which allows users to access websites which require password via the swipe of a digit. With this facility, absent-minded users can breathe a sigh of relief because they do not have to memorise hard-to-remember passwords aside. They can easily access those sites via the biometric scan.
The UPEK TouchStrip TCS5 Fingerprint Sensor supports Windows XP onwards. The Linux version will be coming later this year. These is no news about the pricing at this point of time. With this biometric approach, it enhances the security and accessibility of the netbook substantially.