The well-known Fortune 500 company, Amazon.com, Inc. has announced the upcoming launch of its newest generation Kindle DX that encased in a stylish, elegant graphite enclosure, and features a new improved, high-contrast E-ink screen with 50% better display contrast, aiming to deliver clearest text and the sharpest images for an ultimate reading experience.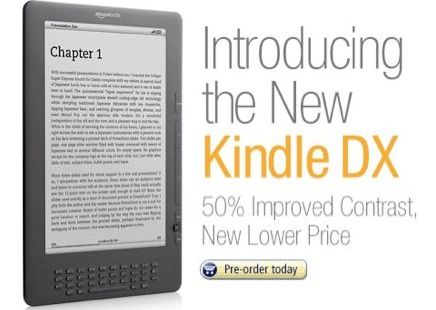 Key Features Of New Upgraded Kindle DX (Graphite):
Vivid, brilliant 9.7-inch electronic ink screen with 50% improved display contrast
Free 3G wireless connectivity without monthly bills or annual service contracts
Access to renowned Kindle Store with over 620,000 books, including New Releases and 108 of 111 New York Times bestseller
Download Kindle books wirelessly in less than 60 seconds without the need of a PC
Auto-rotating screen for reading in portrait or landscape mode by turning the Kindle device
Integrated PDF reader for easy viewing experience
New Popular Highlights functionality to show you the most interesting passages that other Kindle readers have highlighted
Social networks integration including Facebook and Twitter
New Collections feature for organizing your Kindle libraries into multiple categories like "History" and "My Favorite Authors"
Font improvement with two new larger font sizes and sharper fonts
Text-to-speech capability for reading newspapers, magazines, blogs and books out loud
New password protection functionality lets users choose to lock their Kindle automatically while they're not using it
Long battery life supports reading for up to 1 week with wireless or 2 weeks without wireless
"There's no turning back once you read on our beautiful new Kindle DX screen," said Steve Kessel, senior vice president for Amazon Kindle. "With 50 percent better contrast and darker fonts, you'll find it easier than ever to read wherever you happen to be, whether it's outside in bright sunlight or under the low light of your living room. We're excited to offer the new Kindle DX with free 3G wireless at the lower price of $379."
The new slim and lightweight graphite Kindle DX e-book reader which measures just 10.4 x 7.2 x 0.38 inches and weights only 18.9 oz is now available for pre-order at www.amazon.com/kindledx
(aff), slated to hit the market in coming July 7 for a MSRP of $379 ($110 cheaper than original Kindle DX).