The worldwide leader in data protection, Iomega has announced the launch of its new generation of Iomega eGo Portable Hard Drive, available in four colors (bright Ruby Red, sparkling Silver, deep Midnight Blue and Black) and up to 500GB of capacity, featuring new look USB 2.0-powered models with superior Drop Guard ruggedness and industry-leading Iomega Protection Suite.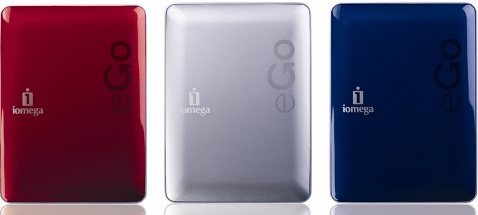 "The new Iomega eGo Portable Hard Drives are the perfect companions for home users and professionals that want to take their files anywhere with the assurance of a superior rugged portable drive that has style to spare and a compact form with flair," said Jonathan Huberman, President of Iomega and the Consumer and Small Business Products Division of EMC. "After two very successful years with the previous model, the new eGo drive sports a compact, sleek new aluminum enclosure in eye-catching colors and comes complete with a suite of backup and anti-virus software to protect your data and your laptop, netbook or personal computer. Top it all off with the best drop spec in the industry and the new eGo drive is the portable hard drive this summer for dads and grads and everyone else."
Iomega Protection Suite Includes:
McAfee VirusScan Plus (free 6-month subscription) – Protects users' PC with anti-virus, anti-spyware, 2-way firewall as well as web security protection (PC only).
Iomega QuikProtect – Backup software for simple scheduled file-level backup of data to hard drives and network-attached storage devices.
EMC Retrospect Express or Express HD – Backup all of users' data plus applications and settings.
MozyHome Online Backup – Convenient online backup service with free 2GB memory capacity (unlimited online storage costs $4.95 per month), allowing isers to restore their most important data from any computer with internet access, at any location in the world.
The new USB 2.0-powered Iomega eGo Portable Hard Drive that arrive in 250GB (Ruby Red), 320GB (Ruby Red, Midnight Blue and Silver) and 500GB (Ruby Red) are now available for $84.99, $94.99 and $134.99, respectively. And the new 500GB Iomega BlackBelt Portable Hard Drive that includes black eGo Power Grip Belt and Iomega's Drop Guard Xtreme is slated to hit the market in coming June for $139.99.