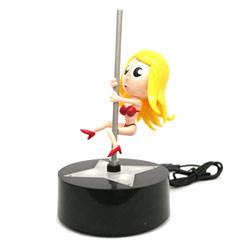 Ever wished for a sexy blond dancing sensually with a vertical pole in front of you while you are preparing your report or proposal? And you don't need to be in a strip club or gentlemen's club. Just fork out $22 and you will get a pole dancer dance on your desk everyday. This would be your ultimate fantasy, wouldn't it?
But, hey, keep those male testosterones in check. The sexy pole dancer is not a sultry striptease performer in the flesh but a cool figurine on a USB port. Grab this second generation USB Pole Dancer and plug it into your USB port. The alluring, sexy blond will perform an erotic dance as you type. The faster you type, the faster and hotter the sexy blonde will dance. In the blur of images, you can even imagine the dancer to be wild Paris Hilton or Cameron Diaz with her sexy legs. Of course, the dancer in bikini does not dance in silence. There are flash lights and music playing while she is dancing. The interesting device ensures you have the same sensations (and erection!) while watching a real pole dancing show.
The USB Pole Dancer V2 should make the perfect Christmas gift for your boss (if he is male). It might probably help you nail that report or proposal and inspire your superiors to give you a big bonus or increment. Well, you never know. Never underestimate the power of technology or sexy pole dancers.