What can you do with your little iPhone or iPod Touch besides enjoying some erotic music while cycling or running on the treadmill in the gym room? To compliment the iPhone and iPod touch features in the gym room or fitness center, iTMP Technology, has recently introduced a small device, SMHeart Link, together with a suite of the iPhone fitness apps which can be used to track users' workout and fitness condition with their little iPhone or iPod Touch.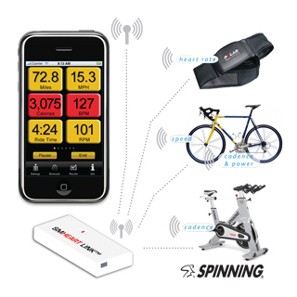 Technically SMHeart Link functions as a wireless bridge which collects data from a variety of health and fitness sensors such as heart rate measure monitors, cycling speed and cadence sensors and power meters. The tiny device will thence send the data collected to Apple iPhone or iPod Touch via Wi-Fi. With iTMP's suite of fitness applications such as iRPM+, users can thence use their iPhone or iPod Touch to monitor and analyze their fitness condition and capability. This data collector is compatible with a long growing list of products and sensors from reputable brands such as Nike, Reebok, Garmin, Timex Ironman, Numetrex and New Balance.
Measuring 3.5 inches x 1.5 inches x 0.5 inches in dimension, SMHEARTLINK is only approximately 3 ounces in weight. The light and compact design makes it easier to be carried along while going to gym or cycling on the mountain bike. Users can use it to track their fitness level while enjoying their favorite music without disturbance from their iPhone or iPod Touch. The SmHeart Link costs approximately $155. However, the iTMP's suite of fitness applications is available at the App Store for free.