V-MODA has announced the newest addition to its venerable family of Vibe luxury headphones – Vibe II with Microphone, the noise-isolating dual-use headphone for all Apple iPhone and iPod models, featuring V-MODA's world-renowned high-definition sound, ergonomic removable sport earhooks, discrete microphone as well as convenient call/music control functions for use with popular Apple iPhone.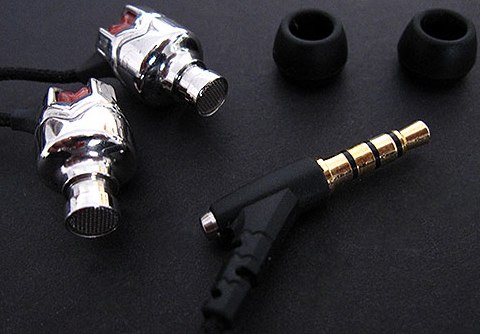 "We're excited to introduce Vibe II, as we believe the headphone is the first to bring together the finest elements of design, music, fashion and world-renowned audio – all of which epitomize the V-MODA brand," said Val Kolton, founder and CEO of V-MODA. "We saw Vibe II as a fashion accessory from its inception and wanted a breakthrough design as the crux. We were inspired by the elegance, design and beauty of Beverly Hills' most elite rock-inspired jewelers and wanted to integrate this philosophy into our product line."
Impressive Highlights Of V-MODA's Vibe II with Microphone:
Lightweight ergonomic design and durable fabric cable
Detachable sport earhooks featuring ACTIVE FLEX for a comfortable and secure fit
Handcrafted entirely from stainless steel alloy, luxurious fabrics and 24k gold
World renowned sound signature features vibrant bass, vivid mid-range and vivacious highs
Revolutionary metal craftsmanship utilizing environmentally friendly manufacturing
New uniquely shaped 8mm V-MASQUE dynamic driver that engineered to provide a natural, organic, signature 3D soundstage
Noise isolating BLISS (Bass Level Isolating Soft Silicone) technology reducing outside noise and enables deep, rich bass response (frequency 12Hz to 22Hz)
The new V-MODA Vibe II with Microphone headset that comes with four pairs of black and clear medical-grade silicone fittings (XS, S, M, L) is expected to be available through Apple Store, Apple.com and shop.v-moda.com soon for $128.