The market for gadget bags has never been so crowded, with bags of all shapes, sizes and price tags available to consumers. Vanguard is the newcomer as bag manufacturer which intends to complete with the more established brands like Lowepro, Kata, and Tamrac. The Vanguard has recently added new bags to its existing lineup under UP-Rise Series.

The new Vanguard Up-Rise 38 comes with the mold of camera bag standards with its innovative ability to expand in size to accommodate the needs to carry extra lens and photography gears. It can be used in the normal form or unzipped and expanded to give the photographers extra room for their equipment. Once at full size, the Vanguard Up-Rise 38 ables to squeeze in a dSLR camera with some medium-sized glass, plus three or four extra lenses or flashguns and a 15-inch laptop. In addition, it is made of a lightweight and durable 1000D polyester ripstop material which is shower-proof but will not survive a dunking. Each model holds laptop and has a completely customizable interior with super soft and thick padding. The shoulder strap is well padded and comfy enough for long day walking. Protective tabs prevent shoulder strap hooks from scratching of gear when retrieving from and returning to the bag.cum
Furthermore, additional storage is provided by one pocket on the rear, three pockets at the front, an extra zip-pocket on the bags main flap, and removable rain coats. The main flap can be secured by Velcro tabs and a solid plastic buckle for a more secure hold. They are also having a zip on the top of the bag that allows quick and easy access to the cameras.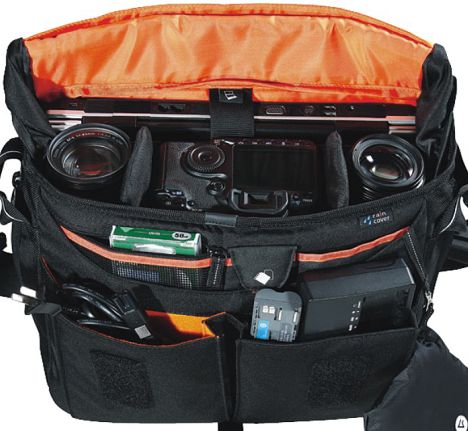 Features of Vanguard Up-Rise 38:
Rapid Access System with top and front retrieval
Expanding system with extra padding
Completely customizable large interior
Easily slips over luggage trolleys
The latest comfortable and affordable Vanguard Up-Rise 38 messenger bags measure 380 (L) x 105 (W) x 280 mm (H) and weighs just 1620 g. It has a sleek and sporty design with an orange interior, making it easy to spot loose gear.