One feature that stands out on the CDMA version of iPhone 4 for Verizon Wireless is that it's running iOS 4.2.5 and supports mobile personal Wi-Fi hotspot (AT&T iPhone 4 and Verizion iPhone 4 comparative review). Personal hotspot, commonly known as Wi-Fi hotspot or simply hotspot (where personal in the term probably to indicate it's for personal use only), is an access point that offers Internet access typically via Wi-Fi wireless technology through the use of a router (iPhone or mobile phone in this case) connected to a link to Internet through mobile network via 2G, 3G or 4G.

In other words, iPhone users on Verizon Wireless carrier network can turn its iPhone into a personal hotspot which allows other computers, tablets, gadgets, smartphones, peripherals or any equipments with WiFi capability to connect wireless to Internet via iPhone, provided you have subscribed and paid for the proper data plan.
In essence, the "Personal Hotspot" feature is similar to Internet tethering function built-into GSM (AT&T) iPhone, which works only through device connected to iPhone via USB or Bluetooth, while hotspot allows selection of connection through Wi-Fi wireless connection, in addition to USB or Bluetooth.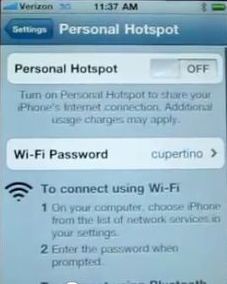 The Personal Hotspot feature of iPhone can be turned on and enabled in the Settings app, and when enabled, user can set the Wi-Fi password in order to protect the iPhone hotspot from illegal or unauthorized access.
Here's the video clip showing the Verizon iPhone 4 and its new Personal Hotspot feature.
It's unclear and unconfirmed whether iOS version 4.2.5 will be released to existing GSM-based iPhone, and if the version is available, or in any future version of iOS, the Personal Hotspot feature will be made available to GSM iPhone, or remain exclusive to Verizion iPhone users.