After a long wait of nearly 4 years since the first generation iPhone launched back in 2007, the popular smartphone finally lands on Verizon Wireless network. As per rumor, Verzion President & COO Lowell McAdam announced the official availability of iPhone with CMDA support in a special "Rule the Air" event which is held in the New York City, ending exclusivity of iPhone with AT&T in USA. Steve Jobs didn't appear during the event though, where Apple was presented by Apple's COO Tim Cook.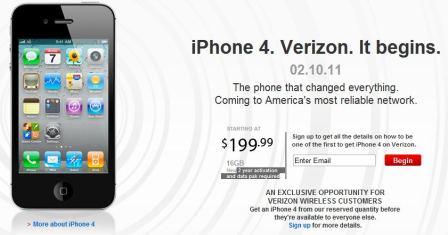 The Verizon iPhone will still be a iPhone 4 similar to AT&T iPhone 4 with slight change. So people who looks for iPhone 4G or iPhone 5 with LTE will be disappointed. Similar to UMTS/GSM-based iPhone 4 sold in AT&T and most mobile carriers worldwide, the Verizon iPhone 4 features A4 processor, Retina Display, FaceTime, HD video recording, App Store, Game Center, AirPlay, AirPrint, 5 MP camera with LED flash, front facing camera, 3-axis gyro and will be running iOS 4.2.5 supporting a new feature – personal mobile hotspot which allows iPhone to be used as access point to connect up to five devices through Wi-Fi. Check out the detailed Verizon iPhone 4 and AT&T iPhone 4 features comparison and differences.
According to official announcement, the 16GB version of Verizon iPhone 4 will be available at a price of $199 USD on 2-year contract with data pak, while the 32GB version of Verizon iPhone 4 will be available at a price of $299 USD on 2-year contract with data pak. The data plans for iPhone is said to have unlimited data usage (no cap) at $30 per month, though it's unsure how much the offer will last.
Pre-order of iPhone 4 on Verizon will start from February 3rd, 2011 for existing CDMA subscribers and customers, and will officially go on sale from February 10th, 2011 to everyone. A page for iPhone on Verizon website has been setup, where people who interested can sign up to get all the details on how to be one of the first to get iPhone 4 on Verizon. The CDMA version of iPhone will be available at more than 2,000 Verizon Wireless communications stores nationwide, online at Verzion website, at Apple retail stores, online at the Apple Store, and Apple authorized resellers.
With the announcement, the Verizon iPhone 4 has also been submitted and listed on FCC website, a requirement before any mobile devices can be sold in US.
Update: iPhone 4S