We have mentioned about HDMI v1.4 specification revision earlier, now seems that its rival's standard, DisplayPort has reached a new upgrade to v1.2 following an announcement by VESA (Video Electronics Standards Association) recently. The new DisplayPort v1.2 specification allows a much higher pixel resolution of up to 3840 x 2400 on top of other new enhancements suitable for both PC and consumer electronics market.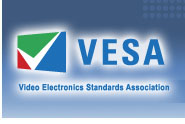 Besides capable to scale up to 3840 x 2400 at 60Hz, the standard is ready to support 2560 x 1600 pixels 3D Display running at 120Hz. This is achievable with data transmission rate of 21.6Gbps doubling from its previous 1.1a version (at 10.8Gbps), allowing much higher resolution, color depths, multi-streaming on multiple displays support and eventually greater 3D display capability on future display products. That is not all, the new specification increases the AUX channel bandwidth from previous 1Mbps to 720Mbps, enabling both USB 2.0 and Ethernet data flow in bi-directional and high speed transmission. Other enhancements include High Definition audio formats such as DTS HD, Dolby MAT, Blu-Ray and DRA standard with audio copy protection support as well as readiness to cater for full HD 3D Stereoscopic display with multiple transmission format and display capabilities.
Best thing is, the new specification is backward compatible with existing DisplayPort v1.1a in hardware connectors' design and pin-out so rest assured that your existing system will still workable without the need of major upgrade.