Current competitors in embedded world are fighting fiercefully just to distinguish themselves from the rest. Besides the higher scalable core speed on the processor, the silicon's power consumption is another important factor for customer consideration before choosing the right processor. Via Technologies has just announced a new low powered x86 architecture microprocessor to fill up the gap. The new ULV (Ultra Low Voltage) processor has been added to its Eden product line families targeting for those power critical application such as Ultra Mobile PC, smart phone, Thin clients and etc. At only 1W power envelope, it is currently the lowest Thermal Design Power processor available in the embedded market.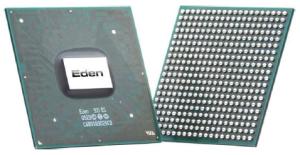 Via Technologies are famous for its low cost processors with middle range performance. It consists of a series of product lines that are capable to scale up to 1.5GHz core speed. Running at only 500MHz core speed, no doubt that the target segment is mainly for entry level power computing with more concern putting on energy efficient and lower power consumption. It stands a huge advantage of eliminating the need of extra heatsink and stringent thermal management during design stage. Most importantly, the lower power dissipation is able to prolong the end product's battery life significantly.
Coupled with VIA CX700/M chipset, it extends the IO interfaces supporting connectivity to external chips. The power envelope is nicely fall below 3.5W with both the processor and chipset integrated together. The release is believed to be able to capture more market shares, even with hectic competition from giant chip makers like Intel or AMD.