VIA Technologies, a leading Taiwanese manufacturer of low cost CPU (Central Processor Unit) and chipset has just unveiled a new VIA VMPC (VESA mounted PC) known as VM7700, targeting for panel PC and digital Signage market. With its intelligent form factor that able to just attach to almost any display panel, it is capable of providing better space management as well as cost reduction as compared to conventional panel PCs. This innovative idea could be a new trend for embedded world as there is no need to have an extra platform that sit separately besides the kiosk display system.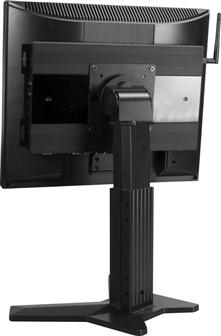 VIA emphasizes on applications which require low cost, fan-less and light weight design.
With the combination of VIA C7 processor running at 1.0GHz frequency and an ULV (Ultra Low Power) CX700M2 media processor, the VM7700 VMPC is the good choice to offer sufficient processing power and the rich multimedia features for panel PC solutions. Some of the famous market segments that it can emerge are information kiosks, digital signage, timetable boards, casino gaming and those that require minimum space for proper installation and operation.
Besides the usual graphics and multimedia capability, VMPC is also supported by wireless networking technologies such as 802.11b/g for media contents streaming from server. In brief, you could think it as a basic PC that has CPU, DDR2 memory, built in hard disk for storage, video (DVI-D, VGA, S-Video) and audio ports, legacy IO ports such as USB 2.0 host ports, serial port and PS/2 ports. Who knows, one day there may be a chance that it can be used for home multimedia entertainment system by just attaching to the big LCD TV back chassis, with condition that it has the high definition decode and built in TV tuner module.