VIBE BS is the trademark brand of NTech from South Korea, which features primarily earphones or headphones which work by transmitting the sound to inner ears via delicate vibrations on skin, bone of skull and cartilage. The technology is generally called bone conduction, and the earphone is also called bonephone or magnetostriction headphone for its transducer technology.

Thanks to Aving, I received a VIBE BS NVE-300 Extreme edition sensational sound ear-phone for review. VIBE BS NVE-300 claims to be able to allow listener to feel the sound and experience full body sensations with pure sound quality. VIBE BS NVE-300 transmits sound via an ear flap, causing no impact on eardrums, producing highly realistic dynamic sound, and the user can hear external sound at the same time.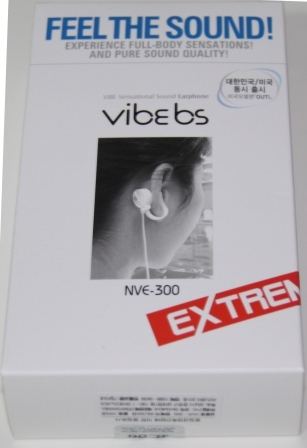 Design and Package
VIBE BS NVE-300 earphone comes in a sleek white packaging, with the following content:
VIBE BS NVE-300 earphone.
Amplifier (attached to VIBE BS NVE-300).
AC adapter.
USB recharging cable.
User manual (in Korean language).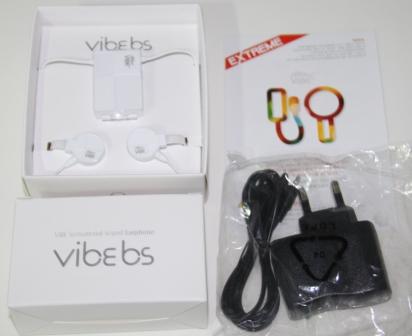 The user manual of VIBE BS NVE-300 is in Korean language, which makes it rather useless. As the device is sent directly South Korea, there may be chance that the product, when sold in international market, will include an English manual.
Features and Specifications
Features of VIBE BS NVE300:
Live vibration, dynamical sound
Sound will be conducted through the bones and skin
Will not be tired of listening by using Vibe sound
It does not block ears
Well designed
Technical Specifications of VIBE BS NVE-300:
Type: Earring body (Vibe Unit)
Sound Pressure Level: 48±2dB
Frequency Response: 100hz-20khz
Sensitivity (SPL): 25mg±5mG at 0.89V (1KHz)
Continuous Use: 12 hours (Level 2)
Battery (Rechargeable): Lithium polymer battery
Emp Charge Time: 90 minutes
Input Terminal: 3.5mm
Power Supply: 5V charger & USB Cable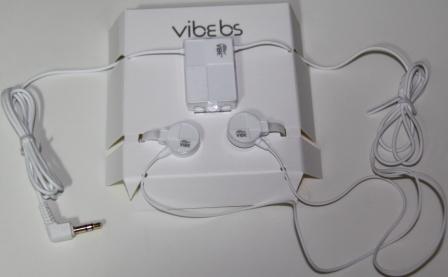 VIBE BS NVE-300 supports all 3.5mm earphone jacks, which makes it workable on most MP3 player, iPod, CD player, DVD player, cell phone, portable game console like PSP, PC and etc.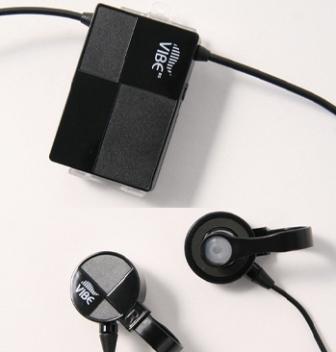 While I receive the white-colored VIBE BS NVE-300, it's also available in black color.
Ease of Use and Comfortness
Everybody should know how to wear a earphone or headphone to listen to the sound transmitted, but VIBE BS NVE-300 is a little different. It takes some learning to actually "wear" or "pin" the VIBE BS earphone to the ear. The earpiece of the VIBE BS NVE-300 is like a clip, to be clipped onto earlobe or ear auricle, just like wearing an ear rings, except without piercing. It's not to be plugged into the ear holes or canals.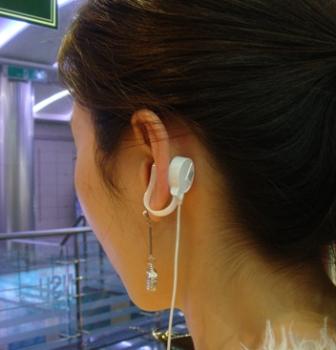 On initial wearing, VIBE BS NVE-300 is not so comfortable to hang and clip on ear. In addition, the earphone has to be wore on a correct position in order to achieve the best volume. However, the uncomfortableness is probably due to unfamiliarity, as the odd feeling goes away after a few minutes.
Sound Quality and Vibrating Sensation
Most magnetostriction headphone or bonephone have greater limitations to fidelity than conventional headphone, which works via the normal workings of ear. Bone or skin conduction of sound, despite been said to be beneficial to ear health due to the fact the the sound wave is not pressured directly to the drums, is not the standard working way of listening to sound.
Transmission of sound through bone or skin has the tendency to amplify the lower frequencies with the lower pitch sound been emphasized. VIBE BS NVE-300 does not seem to have this problem. In fact, the speakers of BS NVE-300 does also produce sound, just like a normal earphones. And the sound produced by NVE-300 is quite loud especially on high volume, unlike typical earphone or headphone. The sound can be heard from a quite a distance from ears, whereas the sound won't be heard once earpiece been removed for a short distance from ears.
The design of producing audio via both speakers and vibration is probably to complement the quality of sound that been transmitted via skin and bone, or may be it's the side effect of vibration generating. Anyhow it works perfect. The sound produced by VIBE BS NVE-300 is as good, as clear, as high quality, if not better than other earphones and headphones. On top of that, I does feel the beat of the sound, probably the vibration created by the speakers, but it feels good sensation for people who likes it.
The manufacturer recommends the ears can be covered with ear plugs in order to maximize sound transfer, which I don't feel quite right. Without indirect sound from the speakers, the sound becomes lower pitch, but the bass sensation does get better.
Amplifier
VIBE BS NVE-300 has a amplifier, which has 4 levels of volume adjustments. After turning on the amplifier, it's always on lowest volome setting, and listeners can press the button again to increase the volume.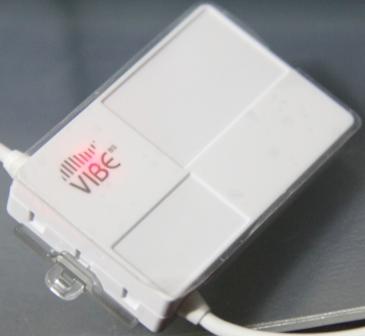 While amplifier is good, but I do feel it's a big problem for VIBE BS NVE-300. Firstly, the amplifier requires battery. It has built-in rechargeable battery, while means it has to be charged once empty, or else no sound will be played. While the amplifier battery will last more than 12 hours, the need to recharge it presents a great inconvenient, especially for always on-to-go users. Secondly, the amplifier is big (or at least relatively big), which make the whole NVE-300 ear phone harder to bring and keep.
External Sound
One of the benefit of VIBE BS NVE-300 is the ability to hear externally sourced sound. As the sound produced by NVE-300 is traveled through skin and cartilage, the ear is not blocked, and the external sound from the open environment can be heard. That's pretty true when I use the VIBE BS earphone. However, as the VIBE BS earphone does also produce sound, if the volume is too high, external sound will get weaker, and harder to listen due to relative distance.
How to Put On VIBEBS NVE-300
As the user guide for NVE-300 is in Korean, here's a brief diagram in English which shows how to put on the unique earring-type body earpieces. More information at VIBE BS official website: vibeworld.co.kr, also in Korean language though.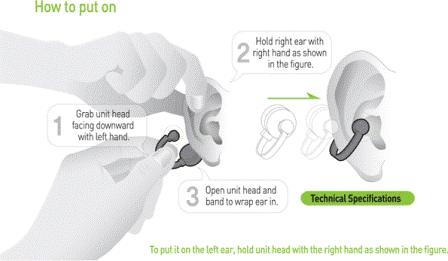 Conclusion
If you have near heard or never seen a earphone or headphone based on bone conduction been sold, it's probably not your fault. There is a reason why such headset does not been launched by audio-visual equipments manufacturers in a big way. The main consent is the quality of sound produced, which tends to have lower pitch. VIBE BS NVE-300 however, manage to produce good quality audio, thanks to its ability to also produce sound in addition to sensational vibration. With its clip-on earring type earpieces, the sound does not been sent directly through ear canals to ear drums too, which allows sound from the surrounding to be heard clearly concurrently. Couple with vibration conduction indirect sound transfer, VIBE BS NVE-300 can potentially protect the hearing.
VIBE BS NVE-300 is best for people who wants to have a sensational feel of the sound, through vibration that earphone produced, and also people who wants care about the safety issue (unblock earphone experience) and ear health. However, the hanging VIBE BS NVE-300 on ear pinna may make some people to feel uncomfortable, and its amplifier makes the earphone less mobile to bring around. In my opinion, the biggest letdown would be the need to recharge the amplifier.
VIBE BS NVE-300 is available for around $56 at a few regional Internet shopping sites, which do ship worldwide. At the price, it's considerably cheaper than most bone-conduction earphone available in the market now, which typically costs more than $80, making VIBEBS NVE-300 a better buy.
Rating
7 out of 10
Disclosure: My Digital Life receives a VIBE BS NVE-300 for review.