Viber, one of the most popular free phone calls and text messaging (SMS) app on iOS platform for iPhone, iPod touch and iPad, has finally available for all Android smartphone users. Similar to Viber for iOS version, Viber for Android is available as free download, without any in-app purchase required to enjoy the full functionality of free voice calling and text messaging between iOS and Android Viber users.

Viber offers free phone calls and text messagings between Viber users through WiFi or mobile data network such as 3G or 4G. As long as Viber app is installed on either an iPhone, iPod touch, iPad or Android, Viber users can talk or SMS each others free of charge with an Internet connection, regardless of distance or country currently located, domestic or international.
With millions of iOS-based and Android-based smartphones been sold every month, the cross-platform support of Viber allows millions of people to chat for free through voice or text. Viber on Android can communicate with friends on iPhone, and vice versa. Currently, there are more than 20 millions registration Viber users worldwide, of which 12 millions are active users over the last 30 days, making 1 billion minutes of calls every quarter.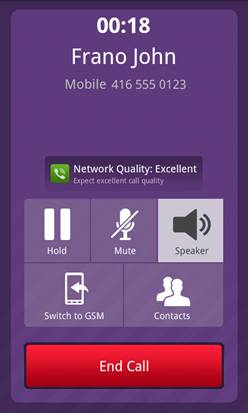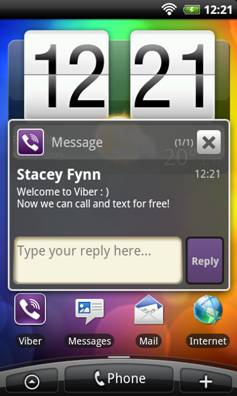 Previously, Viber for Android is released via limited beta where an invite is required before registration is allowed. With the official availability of Viber on Android Market, a prior invitation is no longer needed.
Features of Viber for Android is very much similar to Viber for iOS, with some unique twist due to open flexibility of Android platform:
Completely free with no ads.
No international charges.
No user name, password or registration.
No need to add buddies (friends) – Viber automatically user the phone number of contacts as identity.
Better sound quality than GSM or regular phone call.
Support most brands of Android devices – Samsung, HTC, LG, Motorola, Sony Ericsson and more.
Full call screen whenever a Viber call is received.
Popup text message notification which allows users to respond to text messages without opening Viber.
Tighter integration with the phone to allow users to see their regular call logs and messages inside Viber.
Ability to set Viber as the phone's default dialer so that users can use the Viber dialer for all of their phone calls, not just for Viber.
A video of Viber for Android:
Download Viber for Android from Android Market: https://market.android.com/details?id=com.viber.voip.