In Vehicle Entertainment System is becoming more popular to be adopted by consumers for better lifestyle. In view of strong market demand, VIC has just unveiled a new model of In Car PC for commercial use. Named as Navisurfer II, it is designed with single DIN form factor to be fitted easily into any cars, replacing existing old radio cassette or CD player without occupying additional space.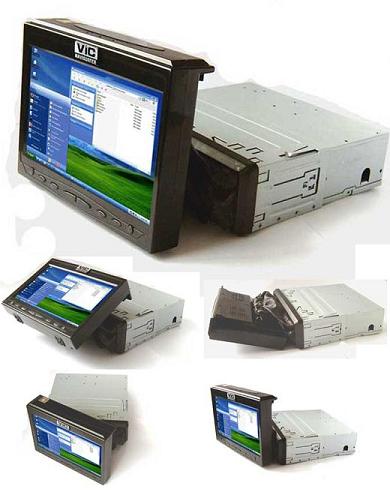 The PC is powered by 1GHz processor and backed up by 512MB RAM, which makes it more than sufficient for processing simple tasks with media playback capability. Additional 80GB storage is spacious enough to store applications and multimedia files. Just imagine you can store few copies of HD DVD movies to be played back without the need to have another DVD optical drive connected to the car PC. Besides, it is equipped with 7-inch touch panel that is able to display 800 X 480 resolutions with scaling capability up to 1024 X 768 pixies. Some of the functions included multimedia playback, rear view camera, gaming, office applications and more importantly the GPS navigator function.
The car PC can be loaded with Windows XP OS for those users that are familiarized with home PC. Alternatively, users can choose Linux OS for faster boot up option. The PC is designed to withstand extreme temperature and vibration test to be installed in harsh vehicle environment. Priced at around $600, it is a good deal to get one in case you are looking to replace old DIN cassette player in the car.