Typically, SSD (Solid State Drive) is designed with either 2.5 or 3.5-inch form factor that can be easily fitted into standard slot. While this seems to be the most preferred way but have you ever wonder that there could be newer form factor in slimmer design. Just recently, Viking Modular has unveiled a new SSD product and unlike other rivals' products in conventional form factor, the new Enterprise class storage device is being designed in DIMM module which normally only dedicated for on board memory RAM expansion.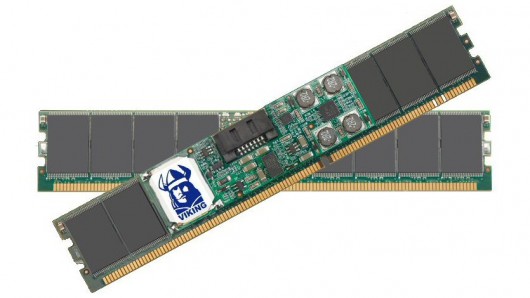 Dubbed as SATADIMM, the new module can be fitted well into industry JEDEC standard DDR3 240-pin DIMM memory interface. The advantage is obvious – now the board makers no longer need to allocate additional placeholder for 2.5 or 3.5-inch SSD externally and instead, its storage expansion can be put into spare memory slot and eventually reducing the whole system stack up for slimmer design. At a size of merely 5.25 x 0.305 x 1.003-inch, the SATADIMM is claimed to be able to sustain both read/write speeds at 260MBps with sequential and random performance of 30000 IO operations per second. To make it more robust, the module is supported by AES-128 encryption with SMART command and TRIM support.
No pricing information yet, the module is currently available in 50GB, 100GB and 200GB memory capacity for system builders but no word if consumers can get it off the shelves due to its unique design and targeted usage models.