The leading provider of prepaid mobile services, Virgin Mobile USA has launched the new Broadband2Go Novatel Wireless MiFi 2200 Intelligent Mobile Hotspot, which the company claims as the industry's first prepaid Intelligent Mobile Hotspot that eliminates the needs for an annual contract, monthly subscription as well as activation fee, capable of supporting up to 4 hours of usage time or 40 hours of standby time with a single charge.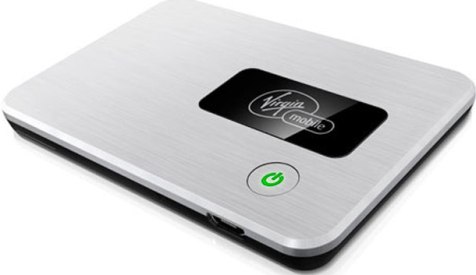 The easy-to-use Virgin Mobile MiFi 2200 creates a 3G mobile hotspot that able to connect up to five Wi-Fi enabled devices to prepaid wireless Internet service, allowing the users to stay connected while at home or on-the-move.
"Mobile broadband is no longer just for the early adopters and heavy mobile broadband business users," commented Neil Lindsay, chief marketing officer for Virgin Mobile USA. "Many of today's mobile broadband options in the market have prohibited mass adoption. Combining the MiFi 2200 with a prepaid Broadband2Go plan will encourage a wide variety of consumers to connect at home or on-the-go. With Virgin Mobile USA, it's simple. A MiFi 2200 with a Virgin Mobile or Broadband2Go Top-Up card will support all your mobile broadband connectivity needs for your laptop, iPad, iPod, gaming devices and more – whenever you need it – whether at home or on the go."
Novatel Wireless (Virgin Mobile) MiFi 2200 Intelligent Mobile Hotspot which measures 3.50 x 2.32 x 0.35 inches and weights just 2.05 ounces is now available at Best Buy and RadioShack stores and online at BestBuy.com, Walmart.com and VirginMobileUSA.com for around $150 – without a service contract.
Details Of Virgin Mobile USA Broadband2Go MiFi Plans:
| | | | |
| --- | --- | --- | --- |
| Price | Expires | Megabytes (Usage) | Last For |
| $10 | 10 days | 100 MB | 5 hours Web surfing or 25 minutes video or 10,000 emails (no attachments) |
| $20 | 30 days | 300 MB | 15 hours Web surfing or 1 hour video or 25,000 emails (no attachments) |
| $40 | 30 days | 1 GB | 50 hours Web surfing or 4 hours video or 100,000 emails (no attachments) |
| $60 | 30 days | 5 GB | 250 hours Web surfing or 21 hours video or 500,000 emails (no attachments) |