To activate Windows Vista with OEM activation hack, the BIOS of the system must support and have an ACPI_SLIC table in the system BIOS that also has a corresponding valid Windows marker in the same ACPI table. To achieve this objective, there are plenty of ways to crack the BIOS to activate Vista, such as boot loader based BIOS emulator Vista Loader, driver based BIOS emulator Paradox OEM Emulation Toolkit or physically modify the BIOS by flashing SLIC-included BIOS mod. You can now also perform Vista OEM activation crack by directly modifying BootMrg, the boot loader for Windows Vista, to emulate OEM BIOS.

Features of Vista BootMgr OEM Activation Hack
Does not modify and change the MBR (Master Boot Record).
Better support OEM brand like DELL where BIOS can't be modded to including the SLIC hack. As long as the memory where the RSDT table resided can be used and written, then it's possible to crack Vista activation. (It's possible to use HWDirect to test if the RSDT table can be written.)
Support 32-bit and 64-bit Windows Vista versions (x86 and x64).
No actual physical flashing of BIOS needed. This hack is another software based BIOS emulator.
Guide to Modify Vista BootMgr
A Chinese hacker, gkend, has wrote a program that will modify the BootMgr to add in SLIC of the manufacturer brand you selected, and install the corresponding Vista OEM product key for automatic activation of OEM editions.
Download VistaBoot.rar where inside contains VistaBoot-en.exe V07.0526 (replaced V07.0519 with compatibility patch) and SLIC data from various OEM vendors and respective OEM digital license certificate.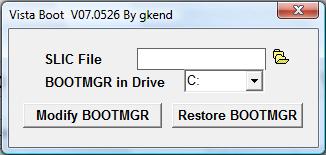 Installation Tutorial
Install Windows Vista.
Run Vistaboot-en.exe with administrator privileges by right clicking of VistaBoot-en.exe and select "Run as Administrator". Else you will get the "Cannot modify the file attributes." error.
In the Vista Boot window, select a SLIC file for the brand you prefer, and system boot drive where the Vista is installed.
Click 'Modify BOOTMGR' button.
Restart the cmputer.
If the Windows Vista is not installed from an OEM DVD (mean the Vista version if not of OEM type), run Command Prompt (cmd) as administrator.
Type the following command:

slmgr.vbs -ilc oem_brand.XRM-MS

Replace oem_brand for the actual OEM vendor name that you use in emulated SLIC table, such as ASUS, Dell, HP, Lenovo, Sony, Acer and etc. For example, when emulating an ASUS SLIC, and the ASUS certificate file is named ASUS.xrm-ms, then type the following:

slmgr.vbs -ilc ASUS.XRM-MS

Ensure that the path to the file is correct too.

Verify the activation status. It should b activated.
If you having problem to modify the BootMgr due to permission error, try to take ownership and grant full control permissions to yourself. To see BootMgr file which is hidden by default, click on "Organize" in Windows Explorer, then select "Folder and Search Options". Click on "View" tab, then select "Show hidden files and folders" setting under Hidden files and folders section, and also clear the check mark (unselect) on "Hide protect operating system files (Recommended)". Click "OK" when done. To clear the Read-Only property on BootMgr, right click on BootMgr and then select "Properties", unselect the "Read-only" attribute and finish by clicking "OK". If you still having error, try to use other tool such as WinHEX to remove the system, hidden and read-only attributes from BootMgr, or you can run the following command in elevated command prompt:
attrib -r -s -h c:\bootmgr
Replace C (drive) with appropriate boot drive letter.
Disclaimer: This article is for information and educational purpose only.