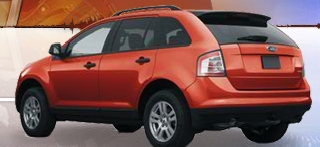 If you have been impressed by Ford Sync in-car communications and entertainment system, the latest release of Ford Sync version 3.0 is an absolute new system that you mustn't miss. Ford Sync is the joint effort from both industries leader Ford and Microsoft. The earlier versions of Ford Sync focus on in-car communication and entertainment system where users can incorporate their cell phone or digital media player into their Ford vehicle and control them via voice commands, radio or steering wheel. The latest Ford Sync Version 3 has shifted its focus to navigation system.

Via Bluetooth connection to a centralized data server, drivers can make voice requests to seek for assistant or ask for information such as traffic conditions, directions, weather conditions, local businesses search, etc. Quick accessing to these information and useful data will help drivers to avoid congested route or find the right directions to go somewhere.
This new Ford Sync 3.0 will be fixed and installed to all Ford models starting from 2010. All new Ford cars will be equipped with Sync 3.0. Users will enjoy new services in Ford Sync 3.0 from time to time as Ford can easily add new services to the centralized data server. Unlike earlier version, the new Ford Sync 3.0 comes with a GPS chip. With a GPS chip, users do not need any LCD screen for navigation guide. Users just make use of the incorporated GPS chip to send their location to the data server, and they will receive directions instruction from data server verbally. Likewise, users also can use Ford Sync to do voice check on local business searches, e.g. the nearest bakery or florist at your place.
Ford Sync 3.0 looks quite convincing. According to both Ford and Microsoft, this latest Ford Sync 3.0 will be on the road on 2010. There is no subscription fee for the first three years of ownership. Ford will determine any future fees at a later date.