If you are planning to install few applications at the same time and instead of installing them manually one after another by clicking on the 'Next' button repeatedly, why not try this free online service offered by Volery. Without the need of going all the hassle, Volery helps to create a customizable installer which does all the tasks of downloading and installed all of the selected applications/programs so that the installation process can be executed with a single mouse click, freeing up time for much more productive and valuable work in the life.

To start using Volery to install selected software applications, users just need to go to Volery website at getvolery.com to select the applications and programs that you want to be installed in your PC system. There are a wide variety of programs available for selection and all these are being categorized clearly under Web Browsers (Chrome, Safari, Firefox, Opera), Messaging (Messenger, Skype), Media (VLC, KMPlayer, Winamp), Imaging (Picasa, GIMP, XNView), Document (Adobe Reader, OpenOffice), Antivirus (AVG, Avast), Developer Tools (FileZilla, Python) and many more, with new software can be added or suggested. Just tick on the desired applications, followed by a click on 'Get Installer' button (of course, a Volery account is required, see details on how to get free Volery demo account below).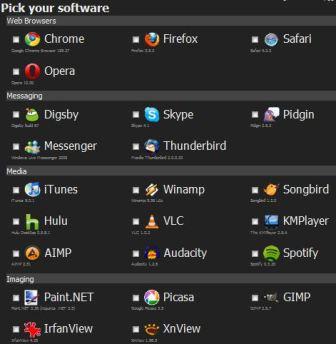 Users will then have to download a tiny Volery executable, which its name take the form of the select apps' name, and run the .EXE file to start the installation at any time.

Once the installation process being activated, there is no additional users' intervention required. More importantly, you don't have to worry about missing out certain programs especially when you are trying to install a list of programs into multiple newly refreshed or reinstalled PC systems with the hope to have similar setup and configuration for easy maintenance and upgrade at later stage. The best thing is that Volery doesn't attempt or try to 'tweak' or 'optimize' the application settings for end-users. All settings are left default at default path. And to make Volery better, all browser toolbar, crapware and other junk that may accompany some programs are stripped.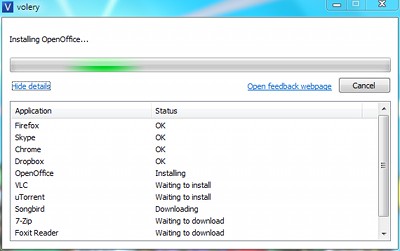 Volery installer presents the progress status of downloading and installing each selected applications in a simple progress bar. User can click on "Show details" button to check out which applications are currently running with clear status for each. However, there is no estimated remaining or completion time on when the whole installation will be finished available.
Once installation finished, the icons and shortcuts of selected apps will appear in Start Menu and desktop. All applications is now available for usage without qualm. Unfortunately, Volery doesn't appear to provide function to update and upgrade installed applications when new version is available.
In essence, Volery is pretty much like Google Pack, but packs more and wider selection of applications. It provides an easy and straightforward way to install much needed software onto PC. Unlike Google Pack, Volery installer is just meant as a launcher, and does not install itself onto the system, which makes it a much better choice.
Since Volery is still in private beta, interested people will require a demo code to register, it's possible to apply and request for a Volery demo code from here, but My Digital Life readers can get exclusive demo code with dedicated Volery sign up URL to get free Volery demo account instantly.
Update: Volery has been launched as ninite.com