The leader in Video Eyewear and personal display devices for the mobile video, entertainment, defense and commercial markets, Vuzix has announced the availability of its new Wrap 920AV Video Eyewear, which the company claims as the world's first fashionable sunglass-style video eyewear with revolutionary "See-Thru" Quantum Optics technology.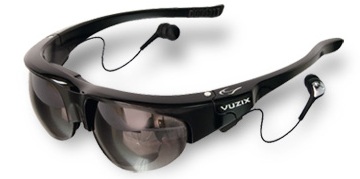 "The Wrap 920AV will not just change the portable video industry, but how consumers view and interact with information," said Paul Travers, CEO of Vuzix. "From watching a Civil War video reproduction battle reenactment on the actual battleground to walking through the streets of New York City with an animated virtual tour guide, the possibilities are endless."
Highlights of Vuzix Wrap 920AV:
Virtual 60-inch screen viewed from 9-feet
2D and 3D video formats
Quantum Optics Technology
Twin high-resolution AMLCD displays
Ultra low power electronics
High-quality noise-isolating and removable comfort fit earphones
Up to 6 hours of battery life on 2x AA batteries
On screen display settings control
For use with or without eyeglasses
Prescription inserts available from Vuzix
Optional Bluetooth 6-Degree of Freedom head tracking system
Optional USB-powered Stereo Camera Pair
Weighs less than three ounces
"As listed in 2008 at the Gartner Emerging Trends and Technologies Roadshow, Augmented Reality promises a paradigm shift in how consumers interact with news, entertainment and information," said Vuzix Consumer Division Product Manager Ron Haidenger. "The Wrap 920AV is the first product at a consumer price point to deliver this game changing technology to the masses."
The new stylish Vuzix Wrap 920AV Video Eyewear that able to connect to all NTSC or PAL audio/video devices with video-out capabilities such as iPod and iPhone is expected to be available by Spring 2009, but the price has yet to be announced.