The AV310 Widescreen is a wearable display that transforms small video screen into a large 16:9 widescreen home theater with a virtual 52-inch display as seen from nine feet. It is presently sold at USD$249.95 at Vuzix website.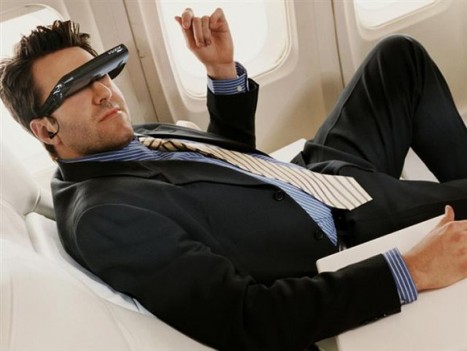 It weighs 4 oz and can be worn like a regular glasses. It comes with independent focus adjustments for each eye and removable high-quality stereo earphones. AV310 Widescreen is powered by a single removable AA battery which provides up to 11 hours of viewing enjoyment.
Now, you can enjoy video games on your private widescreen display or watch 2D or 3D movies anytime, anywhere in 4:3 or 16:9 format.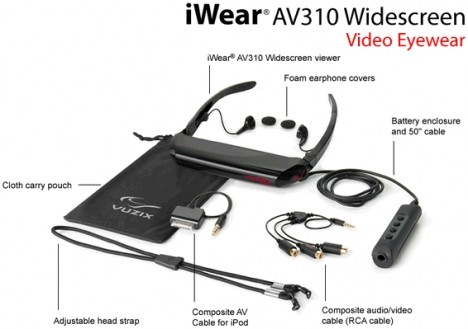 The device is compatible with all audio/video devices with composite video-out. Devices supported including portable DVD players, iPod and other media players, video cameras, cellular phones with video output, game consoles and laptop computers with S-Video output.
Features:
Can be worn with or without eyeglasses
Independent +2 to -5 diopter focus adjustment
Displays up to 4 hours of 2D video with an alkaline battery or 11 hours with a single lithium AA battery
On-screen menu to optimize display settings
Removable earphones
AccuTilt® viewer pivots up to 15 degrees for optimum viewing angle and clarity
Adjustable, hypo-allergenic nosepiece
Includes adjustable head strap and cloth carry pouch
Optional lightshield available