Many people can simply set the alarm clock and wake up on time when the alarm is triggered. However, some people will really have a tough time to wake up at the desired time despite the alarm having gone off for hours. These sound sleepers have probably tried out various tricks, such as getting a very loud and harsh sounding alarm, placing the alarm clock in a place where they need to get out of bed to turn it off, setting multiple alarm clocks, and so on. If all these tricks do not work, the Japanese offers users an interesting solution with Twist Alarm Clock to ensure they will not be late for work or miss their flight.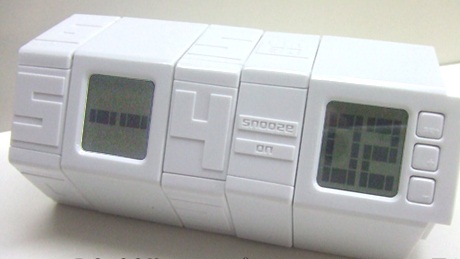 Unlike typical alarm clocks, Twist Alarm Clock from D-Forme will trigger and display a simple math equation at the desired time set. To quiet down and turn off the alarm, users need to twist the alarm clock to get the math solution solved. The Twist Alarm Clock consists of two rotatable parts which allow users to twist the numbered dials on either side of its LCD screen into the right position and get the math equation solved.
Measuring 13.5×6.3×7cm in dimension, the idea behind Twist Alarm Clock is for users to wake up and warm up their brain so that they can climb up from the bed. The clock is priced around ¥2,625 (about $30) in Japan. If users hate Math, it could be good practice to hone their calculation skills first thing in the morning!