Recalling a product always cause millions of dollars loss as well as inconvenience to end users. However, sometimes this situation is unavoidable especially a certain product generates safety concern to consumers. Just recently, Wal-mart has issued a recall action to recall china-brand DVD players that being sold in its chain-stores after received multiple complaints from users due to safety issue.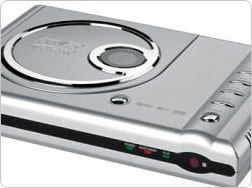 The DVD player, with the brand name of Durabrand was sold in Wal-Mart stores since January 2006. At a retail price of $29, it has received overwhelming demand and up to date, there were around 1.5 million units being pushed to consumers' hands. Unfortunately, some of the units can be easily overheated and with potentially burst into flames that are no longer safe to be use. Although not all of them exhibited the same problem, but with the accumulated 12 compliant cases with five of them causing fire and property damage, it is necessary for the giant chain store to initiate the recall action to ensure no other more severe incident happened after this.
Consumers are advised to stop using the DVD player immediately and return to the chain-store for a full refund. For further information, consumers can contact Wal-Mart at 800-925-6278 during weekdays or visit www.walmartstores.com.