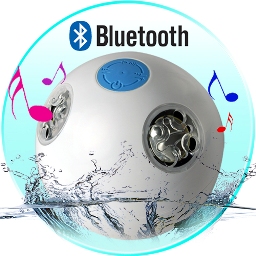 Throwing yourself into the water and simply lazing the hot summer days away in the pool have never been better with Chinavasion's Elima, a waterproof Bluetooth speaker. Never in your wildest dreams did you think it was possible – listening to pulsating music or chatting to your loved one from the comforts of the water. This is one device which will play music and float in the pool. Think of sun tan, water sport, music and fun.

Elima comes with a pair of 2-watt speakers at the sides; just plug in any Bluetooth device with A2DP/AVRCP and the music will flow from a distance of up to 30 feet. All the control buttons are naturally within easy reach. The track will be paused if there is an incoming call and there is no need to get off the water. Answer your call via the speakers and resume the music when the call ends.
Whether you're waiting for an important call you cannot miss or simply enjoy singing along to your favourite songs in the shower, the water-resistant Bluetooth speaker will prove a hit. The paired fun of music and water has no parallel.