As an innovative leader in green storage technology, Western Digital has announced second generation of its highly popular and environmentally friendly WD Caviar Green desktop hard drives. The Green desktop hard drive is featured with the company GreenPower technology to significantly reduce the power consumption as compared with standard hard drives.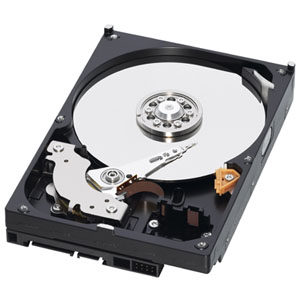 The latest platform is based on WD's 333 GB/platter technology with 32 Mb cached which able to produce the capacities between 500 GB and 1 TB. With the GreenPower Technology, the latest WD Caviar Green hard drives consume up to 20% less power and increase 10% of performance over the previous version. Additionally, it also offer quietest and coolest hard drive for desktop PC or as external storage drives.
The following three technologies has enable WD Caviar Green hard drives:
IntelliPower – A fine tuned balance of spin speed, transfer rate and caching algorithms designed to deliver both significant power saving and solid performance. Addtionally, GreenPower drives consume less power during startup allowing lower peak loads on systems during boot up.
IntelliSeek – Able to calculate optimum seek speeds to lower the power consumption, noise and vibration.
NoTouch ramp load technology – Designed to ensure the recording head never touched the disk media as result in significantly less wear to the recording head and media as well as better drive protection in transit.
All WD Caviar Green hard drives may be ordered through the selected distributors and resellers. The retail price for WD Caviar Green 1 TB is about $219.