The global leading maker of external storage products, WD (Western Digital) has launched its new stylish WD My Passport Studio portable hard drive, which features a high-performance FireWire 800 interface and customizable e-label smart display that's always remains visible even without power, perfect for archiving data.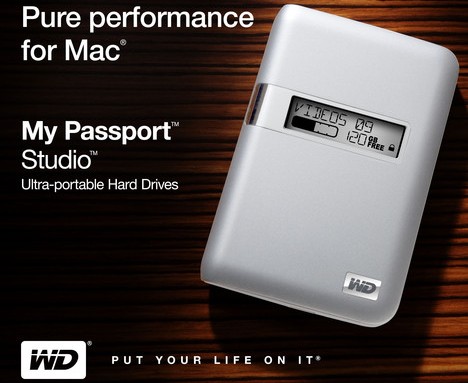 "Many of our customers store their content on multiple external drives, making it difficult to know what content is on each drive. The e-label smart display is an elegant and practical solution for organizing and keeping track of one's digital life and work," commented Dale Pistilli, vice president for marketing at WD's Branded Products group. "WD SmartWare software makes it easy for users to protect their valuable content with automatic and continuous backup and encryption."
Key Features of WD My Passport Studio:
Customizable e-label smart display reminds users of what's stored on the drive, and gives free space capacity and security status even while the drive is unplugged
Super-fast FireWire 800 interface lets users save and access data at top speeds, plus USB 2.0 port for added flexibility
Plug-and-play for Mac computers, formatted for Mac and fully compatible with Apple Time Machine
256-bit hardware-based encryption and user-selected password protection avoid unauthorized access or theft
HFS+ Journaled formatting, compatible with Mac OS X Tiger, Leopard and Snow Leopard
WD SmartWare software

Visual backup displays show users' content in categories and shows the progress of backup
Automatic, continuous backup will instantly make a second copy whenever you change or add a file, aiming for added ptotection
Retrieve your valuable data to its original location whether you've lost data, or the file has been overwritten
Customizable data backup enables users to set drive security, run diagnostics, manage the power settings and more from WD SmartWare control center
The new sleek, ultra-portable WD My Passport Studio portable drive which measures 0.73 x 4.88 x 3.27 inches and weights just 0.18 kg is now available for around $150 (320GB), $180 (500GB) and $200 (640GB), respectively.