Western Digital has debuted its new WD TV Live Plus HD media player, which able to stream Netflix contents in addition to other Internet media such as YouTube, Pandora, Live365, Flickr and MediaFly. In addition, this Windows 7-compatible WD TV Live Plus also supports the impressive "Play To" feature, just as same as its predecessor – WD TV Live.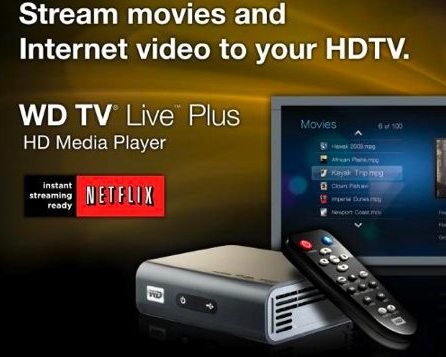 "While Netflix can be found on an increasing number of products such as Internet TVs, Blu-ray Players, video game consoles, and other stand-alone devices, the WD TV Live Plus HD media player is unique as it allows digital media buffs to access and play all of their own personal HD media stored anywhere on their network or USB drives," commented Dale Pistilli, vice president for marketing of WD's branded products group. "At the same time they can easily stream Netflix, Pandora, YouTube and other Internet favorites to their HDTV."
Highlights Of WD TV Live Plus:
Full HD 1080p video playback and navigation
Support a wide variety of popular media formats
Stream premium content from Netflix instantly (Netflix unlimited membership needed)
Connect to your home network via an Ethernet port or optional USB wireless adapter (Wi-Fi)
2 integrated USB ports let users connect multiple USB storage devices and access them simultaneously
Support Windows 7 "Play To" for easy streaming the computer files to a big HDTV
Transform USB storage devices into a media player
Size: 1.57 x 3.94 x 4.94 inches ; Weight: 0.67 pounds
The new ultra-compact WD TV Live Plus full HD (1080p) media player that comes bundled with a remote control is now available for a MSRP of $149.99.