Not to be left behind the market and industry trend, WD (Western Digital) has just announced its SSD (Solid State Device) targeted for those users that emphasizes much on security and reliability. Categorized under SiliconDrive III, it is one of the earliest SSD that being launched by WD as the first step to enter SSD market.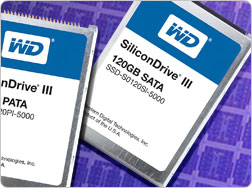 The new series consists of both SATA II drives in both common 1.8-inch and 2.5-inch form factor suitable for netbook and notebook usages. Featured with transmission speed of 100MB and 80MB for read and write respectively, WD will be offering its customers with storage capacity ranging from 30GB up to 120GB. Although it doesn't have impressive performance specifications as compared to its competitors, but the new product has been integrated with innovative feature that able to predict the lifespan of the SSD so that further action such as replacement or backup can be taken before it reached its lifespan.
No pricing and availability date yet, we should expect the SSDs to be reaching commercial space soon, competing against existing solutions from other competitors with its unique differentiation feature set.