Lacking of a numeric keypad or numpad on the keyboard might cause many users inconvenience when they move from desktop to laptop. Many users particularly those who deal with numbers and always need to enter long sequences of number, for instance, in spreadsheets, accounting programs, etc cannot speed up their work due to the hardware limitation. The same applies to computer gamers who have become familiar and got used to using the numeric keypad to control games or characters. If getting another portable numeric keypad plugged to your laptop is troublesome and space consuming, Adesso offers an interesting and instant solution via its Adesso 19 Key USB Numeric Keypad.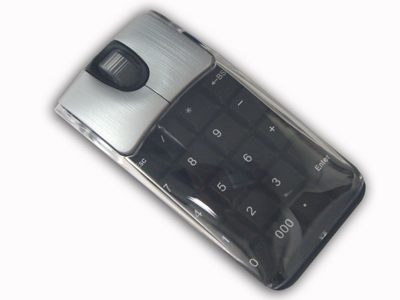 The 19 Key USB Numeric Keypad offered by Adesso is more than a numeric keypad. It is a combination of a numeric keypad and an optical mouse. This palm-sized numeric keypad cum optical mouse is 4.752″ x 2.25″ x 1.5″ in dimension. Users who need quick number entering can just flip up the transparent cover and use the numeric keypad instantly. It speeds up the work process and increase productivity tremendously. When the numeric keypad is not in use, users just need to flip down the cover to avoid touching the numeric keys while using the mouse function. The optical mouse offers 1000 dpi resolution for excellent smoothness and accuracy.
Adesso 19 Key USB Numeric Keypad Mouse is driver free and users can just plug and use it without any tedious installation. Since it is dual functional, users especially mobile professionals can save the hassle of bringing along two separate gadgets when travelling. Adesso 19 Key USB Numeric Keypad costs $27.99.