Curious about what could have interfered with your wireless networks in your surrounding environment? Now with this handy tiny device named as Wi-Spy, it can analyze what kinds of wireless networks that could be the culprit in creating the interference or cross talks in congested wireless spectrum bandwidth suitable for both consumer and industrial use.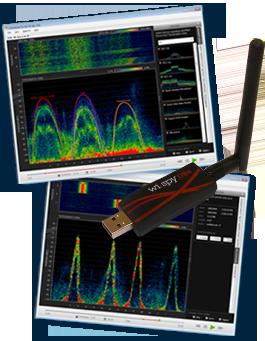 Wi-Spy is also known as the world's smallest 2.4GHz Spectrum Analyzer that can be used to identify 802.11b/g/n wireless technology, cordless phones' bands, microwave ovens, Zigbee, Bluetooth technology and many more. As compared to its predecessor, the new Wi-Spy 2.4x has been redesigned and enhanced with higher amplitude (1.5dBm) and frequency resolution (1MHz) that make the trace captures much more meaningful and attractive with rich graphics display. Good thing is, all these can be recorded and playback in spectral, topographics and planar views. Some of the scenarios that this can be useful are such as when you experienced Wi-Fi network drops when a cordless phone conversation on-going, multiple networks interference and etc.
Unlike other industrial grade spectrum analyzer, the product is retailed at $199 which is quite affordable even for household usage. It is compatible with Windows 2000 or newer OS with .Net 2.0 installed in PC system.