Posted:
December 21, 2008
/
Under:
Operating Systems
/
By:
My Digital Life Editorial Team
Microsoft has sent out invites for early participation in Windows 7 Beta program to selected few privileged technical beta testers and existing MVPs. In the invitation email, Microsoft states that the Windows 7 beta 1 installation file will only be available for download in early 2009 yet, and the Windows 7 Beta 1 registrants can only access to microsoft.beta.windows7.lobby newsgroup, some survey links, and guide on using Send Feedback Tool when logging into Connect. There is no product key for Windows 7 available yet too.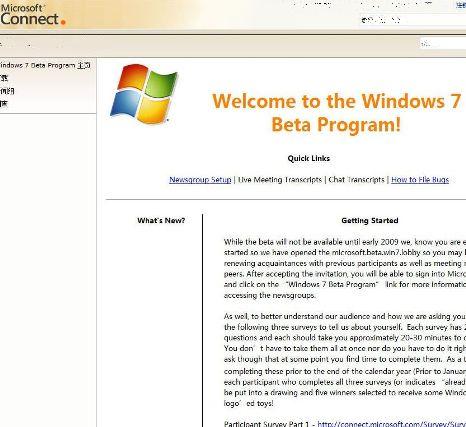 While not yet available for download, there is already intense speculation that the first beta build of Windows 7 (aka Beta 1) going to be released will have the build version number of 6.1.7000.0.081212-1400 (7000.0.081212-1400), packaged on December 12th, 2008. As such, the previous Windows 7 build 6956 that leaked into Internet may not be the actual beta build, but nonetheless close.
There are rumors that beta testers may get the code bits as early as within 48 hours, although most evident points to delivery date for Windows 7 beta 1 on either January 5, 2009, when Windows 7 Beta downloads and DVD media kit will be offered via the January 2009 Quarterly Update Kit through the Microsoft Action Pack Subscription (MAPS), or January 13th, 2009, when all participants of the MSDN Developer Conferences is scheduled to receive their free copy of Windows 7 Beta 1 DVD.
General public usually don't have much luck when trying to get free new software product from Microsoft, and the public beta of Windows 7 is expected to come later after the technical beta testers receive it, although it's still expected to be in early 2009, probably in the same month of January.
Actually, Microsoft has accidentally put up, and thus leaked the download link URL for Windows 7 beta, which is located at http://www.microsoft.com/windows/windows-7/beta-download.aspx. The Windows 7 Beta download page is never live and leads to 404 not found when clicked, but it was linked from Windows 7 homepage, although the link has been taken down.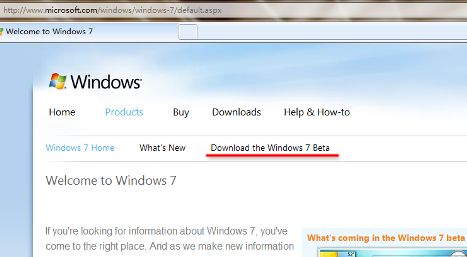 Most people who wants early access to official Windows 7 beta bits will probably hope for sharing via torrents in BitTorrent (BT) network, which if according to history, will definitely happens.