Afraid to tryout Windows 7 build 6956, which rumored and speculated to be the beta version, or at least functional close to the final beta (or beta1) that will be released early 2009, due to cumbersome installation process using the leaked 6956 version VHD image? Now there is no more headache, and the unofficial Windows 7 build 6956 setup installation ISO image, which can be burned to DVD has been composed and created, and released for free download via BitTorrent.

The developers in China has managed to install Windows 7 build 6956, clean the extra user accounts, run the Sysprep utility to generalize, clean and re-initialize the system to factory state, and then uses ImageX to capture and create Windows image (.wim file format) consisting of only Windows 7 build 6956 installation files under WinPE environment. Then, the created install.wim file is used to replace and overwrite the same file in Windows 7 build 6801 installation DVD image (the latest build which has setup DVD image leaks).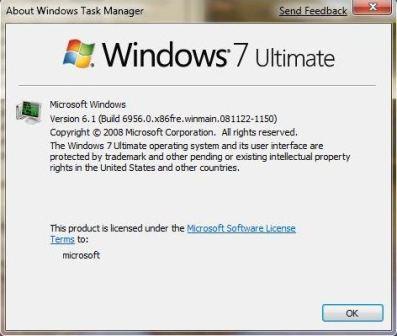 Thus, DVD installation ISO image for Win7 build 6956 is created based on build 6801 DVD image. However, the ISO image for Windows 7 build 6956 will actually install the new build, and the system installed will be clean, complete with full functionality of Windows 7 (without need to hack), and has the newest boot screen. The only exception is that as the installation media is based on build 6801, thus when booting or starting up the system using the media, the bottom right corner will show version 6801, however, it does not affect the end product.
The Windows 7 build 6956 setup installation ISO image can be used to install Windows 7 build version 6956.0.x86fre.winmain.081122-1150 (6956.winmain.081122-1150) on a physical PC computer by burning the image to a DVD, or simply mount into DVD-ROM drive of a virtual machine powered with VPC, Hyper-V and more to start the install. Most hard disk controller type such as IDE, SATA, SATA2 (SATA II), RAID and SCSI are supported, and also both Intel and AMD CPU.
Download ULTIMATE_GB1CFRE_EN_DVD_6956.iso
Use any BitTorrent BT client to download using torrent file above. The ISO image contains only 32-bit (x86) edition of Windows 7 build 6956. Download size is around 2.19 GB. For those prefer to download using ordinary HTTP web download, it's possibel to download Windows 7 build 6956 installation ISO online.