The 64-bit (x64) version of Windows 7 Build 7057 had been leaked to Internet after its sibling, 32-bit (x86) version of Windows 7 Build 7057 was made available earlier. The source this time was the same, from Russian user.

The build tag on Windows 7 Build 7057 is 7057.0.amd64fre.winmain.090305-2000. Which means the build is compiled on March 5, 2009. The Windows 7 Build 7057 x64 is now available for free download on most popular torrent trackers and file sharing sites such as RapidShare and MegaUpload.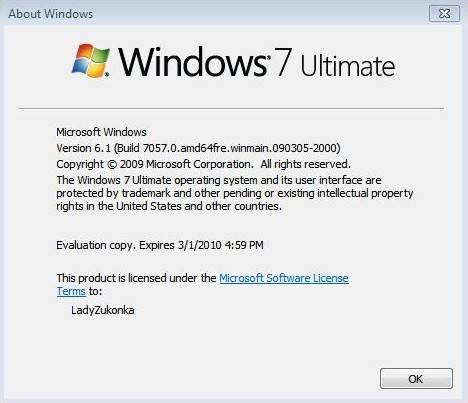 Download Windows 7 Build 7057 x64
File Name: 7057.0.090305-2000_x64fre_client_en-us_Retail_Ultimate-GB1CULXFRER_EN_DVD.iso
Size: 3.2 GB
MD5: 3e262526f9a758c5b3624910a05c2699
SHA1: b79d4552a7a871901e881ae308f9188e04a4f929
CRC32: 22ef1237
Torrent: Microsoft_Windows_7_Build_7057_Ultimate_64_bit.torrent(Microsoft_Windows_7_Build_7057_Ultimate_64_bit.4772031.TPB.torrent)
And, don't forget to fix 64bit Windows 7 Build 7057 which is also been affected by Desktop.ini opens in Notepad startup bug.
Windows 7 Build 7068 32-bit and 64-bit is now available for download.