After both 32-bit and 64-bit Windows 7 Build 7048, which many rumored to be the release candidate was leaked less than a week ago, the newer build of Windows 7 has been leaked. the 32-bit (x86) version of Windows 7 Build 7057, which was compiled on March 5, 2009, has leaked to torrent network for free download via BT client. And unlike any other builds, there is some clue that build 7057 may indeed is a potential RC 1 build.

Windows 7 Build 7048 has the build tag string of 7057.0.x86fre.winmain.090305-2000. One of the major differences between build 7057 and all other previous leaked or officially released builds of Windows 7 is that the evaluation copy expiry date has been extended to March, 2010, specifically on March 2, 2010.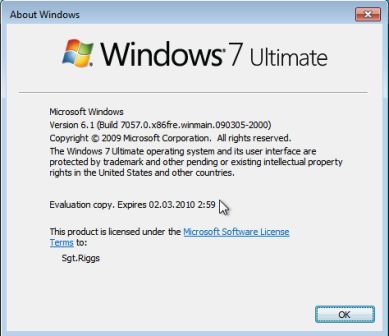 Download Windows 7 Ultimate Build 7057 x86 DVD ISO
DVD ISO File Name: 7057.0.090305-2000_x86fre_client_en-us_Retail_Ultimate-GB1CULFRER_EN_DVD.iso
Size: 2.51 GB
MD5: 2a3863afe3453d1be642201fd3260ab2
CRC: E34E099B
SHA1: 0f32dfe92d544f4690ab91c02b59dba665d4ca0f
Torrent: 7057.0.090305-2000_x86fre_client_en-us_Retail_Ultimate-GB1CULFRER_EN_DVD.iso.torrent
For those who prefer to download via RapidShare, download links are available at the forum. 64bit (x64) Windows 7 Build 7057 is also available for download.
Windows 7 Build 7068 32-bit and 64-bit is now available for download.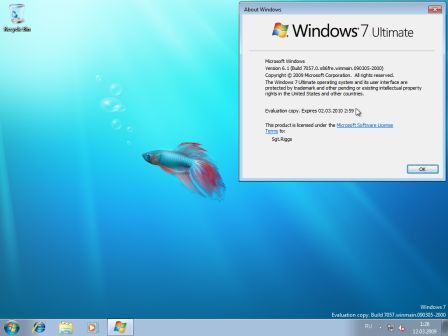 Some other changes in Windows Seven Build 7057 is the "For testing purpose only" string is now replaced with "Evaluation copy", and the new beautiful and elegant background when loading Windows startup, and while displaying logon and shutdown screen, with shadow effect.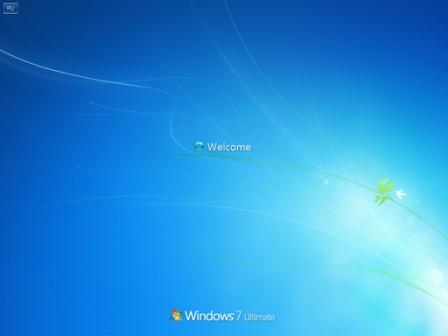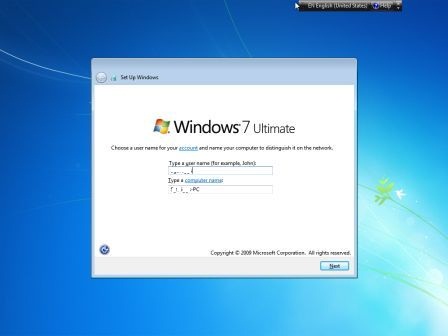 And, more and more themes and wallpapers.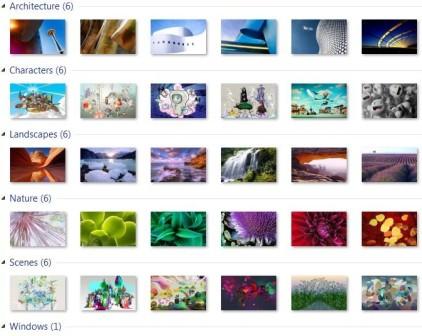 And, the major clue that Windows 7 Build 7057 is possibly the release candidate (RC) for Windows 7, or at least one of the build made as RC. A EULA ID string in Microsoft Software License Terms which mentioned Win7_RC_1_Ult_NRL_en-US. In previous builds, the EULAID is Win7_B.1_PRO_NRL_en-US. And the license title says MICROSOFT WINDOWS 7 OPERATING SYSTEM RELEASE CANDIDATE 1. A more likely scenario is that
build 7048 is pre-RC or RC preview build which includes the RC1 EULA.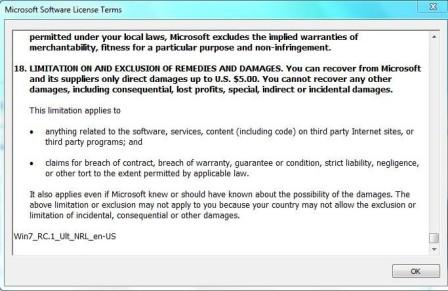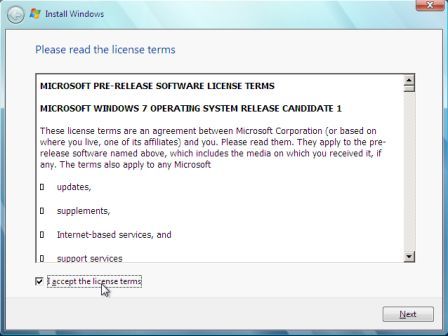 The Windows 7 product keys to activate the official beta Build 7000 can still be used to activate Windows 7 Build 7057 RC.
Windows 7 Build 7057 has a unique problem where Notepad will auto open with desktop.ini on each startup, which can be easily fixed.