For Windows Vista Ultimate users, Microsoft had released a few new sound effects schemes as part of Ultimate Extras. Microsoft looks set to be more than generous to Windows 7 users, which is including as much as 13 new and different sound effects or sound schemes in the new operating system. The many selection of the sound schemes and audio files give greater flexibility to personalize-maniac users to really make their Windows system stands out in the crowd.

The 13 different new sound schemes in Windows 7, which has been included in Windows 7 Build 7048, are Afternoon, Calligraphy, Characters, Cityscape, Delta, Festival, Garden, Heritage, Landscape, Quirky, Raga, Savanna, and Sonata, in addition to usual Windows Default and No Sounds.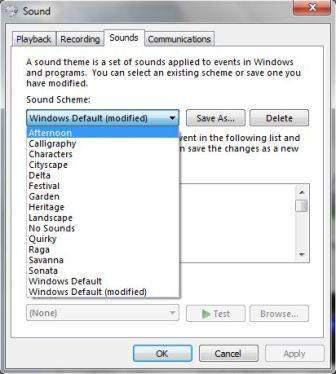 Windows XP, Windows Vista or other operating system users who wants to uses these Windows 7 sound schemes can download the .wav audio files below.
Download Windows 7 Sound Schemes .wav Audio Files from Build 7048: Win7-7048-Sounds.rar