The original Windows 8.1 RTM ISO images created by Microsoft has been leaked by WZOR. Microsoft has earlier completed the development of Windows 8.1 RTM, and compiled the new version of OS at build number 8.1—9600.16384.130821-1623 on August 21st, 2013. Microsoft has also set the official general availability (GA) release date for Windows 8.1 to October 18, 2013.
Unlikely prior Windows releases, this round not even the 'privileged' MSDN and TechNet subscribers will get the software earlier than the mass, despite Microsoft has immediately delivered Windows 8.1 to OEMs, in an obvious attempt to prevent a leak. But here comes the leak for Windows 8.1 RTM. But note that Microsoft has released more QFE (Quick Fix Engineering) updates for Windows 8.1 before GA to fix issues that are discovered after RTM, and that's explained the gap between between RTM and GA.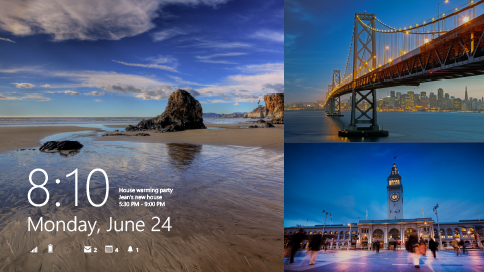 Windows 8.1 packs a few new features, such as a single integrated search for documents, apps, and the web; redesigned Windows Store; more default apps such as Reading List; updates apps such as Photos app with editing capability and Mail app; Skydrive as built-in cloud storage; Internet Explorer 11; boot to desktop instead of Start and etc.
For the Windows enthusiasts who can't wait for the general availability date of Windows 8.1, various editions and languages of Windows 8.1 RTM in ISO images have been leaked, available for free download via BitTorrent network.
Here's the hash checksum information for the US English version of Windows 8.1 RTM. Magnet links for the download is available at the forum, downloadable with your favorite BT client.
Windows 8.1 x86 English
File Name: Windows_8.1_EN-US_x86.ISO
Build: 6.3.9600.16384.WINBLUE_RTM.130821-1623
Size: 2,915,131,392 bytes
SHA-1: 802CFCD3A411D99C097EA7E747F0B6697F9BDAC4
MD5: 7DD36FEA0D004ACFEDBDB3A5521EF5FF
Windows 8.1 x64 English
File Name: Windows_8.1_EN-US_x64.ISO
Build: 6.3.9600.16384.WINBLUE_RTM.130821-1623
Size: 3,899,295,744 byte
SHA-1: BC2F7FF5C91C9F0F8676E39E703085C65072139B
MD5: F104B78019E86E74B149AE5E510F7BE9
Windows 8 Enterprise x86 English (Volume)
File Name: Windows_8.1_Ent_EN-US_Vl_x86.ISO
Build: 6.3.9600.16384.WINBLUE_RTM.130821-1623
Size: 2,828,421,120 byte
SHA-1: 87DBCDB8491DBEF1BBC14BE8AB599086789E143C
MD5: 405091EFE4D58947DB45A106B37DD064
Windows 8 Enterprise x64 English (Volume)
File Name: Windows_8.1_Ent_EN-US_Vl_x64.ISO
Build: 6.3.9600.16384.WINBLUE_RTM.130821-1623
Size: 3,798,214,656 byte
SHA-1: 8311958EDDEDD29E326ED91FDF025D39B88E0FC8
MD5: 2A9589AEEFDC4B94CD527476FA979EE5
Note that although you may previously purchase a legit Windows 8 product key, the product key is unlikely able to be used to install or upgrade to Windows 8.1. Hence you will need the following product key to initiate the install or upgrade,
Windows 8 Core: 334NH-RXG76-64THK-C7CKG-D3VPT
Windows 8 Professional: XHQ8N-C3MCJ-RQXB6-WCHYG-C9WKB
But these serials can't be activated though. To activate the Windows 8.1, reenter the legitimate Windows 8 retail or OEM product key (Microsoft promises free upgrade for Windows 8 users, don't they?) to activate the Windows 8.1. If you don't want to go through the hassle of reactivating Windows 8.1, then it's wise to wait for GA, that's when new Windows 8.1 will be made available as a free update via the Windows store for the existing Windows 8 users. It's especially true for people who hacktivate Windows 8 with Windows 8 ProWMC (Windows Media Center) upgrade key, where you need to spend more time to get the system activated. Those using MAK product key, or KMS is unable to activate for now as Windows 8.1 has updated its KMS mechanism.
Windows 8.1 Update is now available.