Microsoft has officially started the pre-order of next iteration of Windows operating system, Windows 8, which is scheduled to go on sale on October 26th, 2012. Though Windows 8 has attracted both favorable and disproving reviews, but as the dominant desktop operating system, it still attracts huge attentions and has a huge followings.
The pre-order of Windows 8 has started from October 12nd, 2012. Best of all, Microsoft has releasing Windows 8 with a ridiculously low and unbelievably cheap price for most comprehensive edition of Windows 8 during the pre-order and at least during the initial few months period after Windows 8 launch, with steep discount from the list price.
Microsoft has earlier announced the availability of download-only Windows 8 Pro to upgrade existing Windows XP, Windows Vista and Windows 7 PCs to Windows 8 for $39.99. However, this option is not available for pre-order. In fact, no pre-order is required too, as on the launch day, any users can download Windows 8 Upgrade Assistant to directly purchase Windows 8 Pro Upgrade license on Windows.com.

What's available for pre-order is packaged box of Windows 8 Pro with DVD, together with packaged box of Windows 8 and Windows 8 Pro System Builder with DVD (System Builder version effectively replaces the retail and OEM version).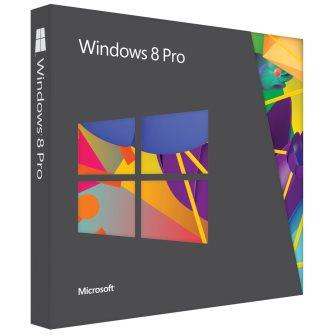 Microsoft has not officially announced the prices for Windows 8, except for several promotional prices. However, several retailers have revealed the list prices for Windows 8. Here's the summary of Windows 8 pricing:
Windows 8 Pro (Online Upgrade): $39.99 (promo price)
Windows 8 Pro (DVD Upgrade): $69.99 (promo price); $199.99 (list price)
Windows 8 Pro Pack (key card with upgrade license code to upgrade Windows 8 to Windows 8 Pro): $69.99 (promo price); $99.99 (list price)
Windows 8 System Builder (DVD): $99.99 (promo price): $140.99 (list price)
Windows 8 Pro System Builder (DVD): $139.99 (promo price); $195.71 (list price)
According to Blogging Windows, the offer is available at Amazon.com
, Best Buy, Staples, Office Depot, Newegg, Microsoft Store and etc.
If you're looking for bargain, Amazon.com
also throws in $30 Amazon.com promotional credit for any Windows 8 Pro purchase, effectively making it the same price with online upgrade of Windows 8 Pro. If you're purchasing System Builder version of Windows 8, the $30 credit through coupon code WIN8SYST can be used straight away on 64-bit Windows 8 System Builder software.
Those who purchase an eligible Windows 7 PC between June 2, 2012 and Jan. 31, 2013 can also upgrade to Windows 8 Pro for $14.99.