Windows Key Checker is a fully automatic tool that check, retrieve and log the product key, CD key or serial number that is used and installed on a copy of Windows Vista and Windows XP installation periodically from the registry, on a preset time. Once the program starts logging, it will find and locate the Windows Vista or XP product serial key, and then show and display the the product key on screen, which then can be saved to a file.

To use Key Checker, simply set the number of minutes that you want the program to check for product key from registry (in other word, the number of minutes that the program has to wait before checking for product key again). Then just click on Start Log button, immediately you will see a product key been shown on the below pane. Let the Key Checker runs as long as you want, and after the specified minutes of time, it will check again for the latest product key used by Windows, if it has been changed. To stop, simply click Stop Log button.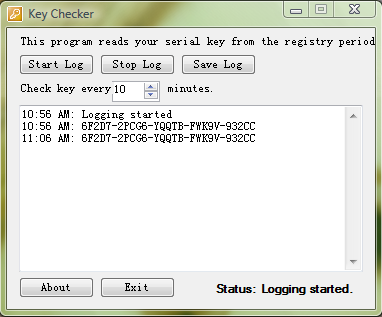 Key Checker is useful especially in the situation where you need to check for the current product key installed in Windows frequently, such as when you try to brute force guessing a valid usable product key for Windows Vista with Vista Brute Force Keygen.
Download Key Checker version 1.1. Other than Windows XP, Key Checker also works on Windows XP and possibly other version of Windows operating system too.
More utilities to view or change product key for Windows OS.