After installation Windows Vista 6.0 (Final or RTM version), the next logical step is to activate Windows Vista by using Windows Vista Activation module so that the operating system can be used in full functionality mode without any limitation or restriction. If you have proper and genuine product key for Vista, online activation process should be easy and simple. If you don't, or have problem activate Vista, there are cracks or workarounds that allows you to activate Vista using product key for Vista RC (release candidate) version or beta version. And now, there is Vista Activators AIO that combines all these cracks into a single download file.

Although there are a lot of version of Windows Vista Activation cracks inside the Vista Activators AIO, but basically all of them is doing the same thing, and that is, as of currently, using the hack of replacing Vista final activation files with RC1 (or RC2) files so that any pre-RTM product key will work. However, the AIO allows Vista user to easily choose which method, or more accurately, which repacked crack or patch package you want to use to crack the Windows Vista to trick it to believe itself as RC1 or RC2, and then activate the OS by using the RC1 or RC2 product key (supplied with some of the crack packages in the Activators AIO).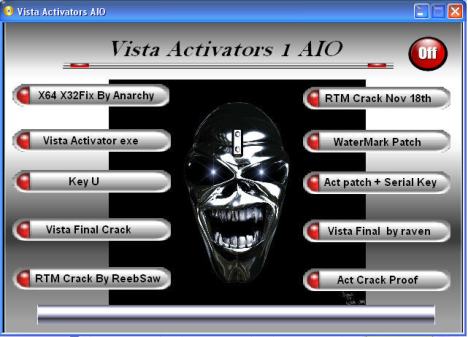 The crack packages that contained inside the Vista Activators AIO include:
X64 X32 Fix By Anarchy
Windows Vista Activator.exe
Key U (KeyU AIO which contains Windows XP CD Key Changer, XP Key Viewer for SP1 and SP2, SP2 download link, Windows Genuine Advantage Validation Tool (KB892130) PATCH, Microsoft Genuine Advantage Validation v1.5.708.0 FINAL, Magical Jelly Bean Keyfinder v1.51, Windows XP Product Key Modifier (XPPID), XP Genuine in 5 seconds by changing to given legal and true product key, RockXP4, Windows Vista RTM Activation Crack, Windows Vista 5840 – 30 days Hack, Remove the Windows Vista Watermark, Windows Vista Activator and etc.)
Vista Final Crack
RTM Crack by ReebSaw (Microsoft.Windows.Vista.RTM.PROPER.Activation.Crack-ReeBSaW)
RTM Crack Nov 18th (Vista RTM Build 6000 Crack 11-18-2006)
WaterMark Patch (Vista.RTM.en-US.Evaluation.Copy.Desktop.Watermark.Patch.-Roger52)
Act patch with Serial Key
Vista Final by raven (Windows.Vista.FINAL.Crack.raVen)
Act Crack Proof (Windows.Vista.RTM.Activation.Crack-iND)
Download Windows Vista Activators 1 AIO. Extract with WinRAR, and execute Autorun.exe.
Do note that as this way of workaround or bypass Windows Vista Activation method involves using product key from pre-RTM or pre-final (i.e. RC1, RC2 or beta) product key, the Vista that been activated with these keys will most likely expire soon, until a true and working crack or patch emerge.
You can also permanently activate Windows Vista, or remove KB929391 Windows Vista validation updates.