'Windows Vista Activation and OEM Informatino by StR0 is an all-in-one (AIO) activator to crack Windows Vista. The activator for all versions of Vista works by using Vista Loader version 2.1.2, which simulate a BIOS that contains SLIC information which allows Vista OEM activation. The best thing about StRO Vista Activator is that it's fully customizable and has the most comprehensive selection or OEM manufacturers or vendors.

StRO Vista Activator has an user friendly graphical interface (GUI) to help users activate Windows Vista. Users can choose to a list of BIOS manufacturers to emulate, namely ASUS, Acer, Dell, Fujitsu-Siemens, Gateway, Hewlett-Packard (HP), Lenovo, NEC, Sony and Toshiba. Which brand you select is not important, as the Vista Activator will automatically install the corresponding OEM product key to activate Vista as OEM version.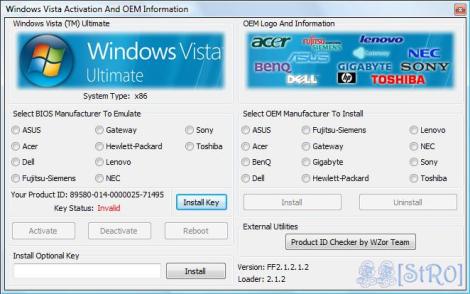 Vista Activator 2.1.2.1.2 with OEM Information by StRO (Vst.X-Free.AO_2.1.2.1.2.rar) can be downloaded from numerous place such as DepositFiles.
To use the Vista activator, you will need to run Vst.X-Free.AO_2.1.2.1.2.exe with administrator privileges.
No matter whether you use the Vista activator to activate Windows Vista or not, you can always make your Vista system to look like a OEM system from a manufacturer. Simply install OEM logo and information (more about OEM logo in Vista) of the manufacturer you like using the right pane of the activator.
Comes free with the activator is Product ID Checker to check which PID, ID1, ID2, Type, Subtype, Class and Crypto ID from any Windows Vista Product Key. In short, it will tell you the product key will unlock which editor of Windows Vista, be it Ultimate, Home Premium, Business, etc or the lowest end edition the Start.
Disclaimer: This article is for informational and educational purpose only.