Posted:
February 25, 2009
/
Under:
Operating Systems
/
By:
My Digital Life Editorial Team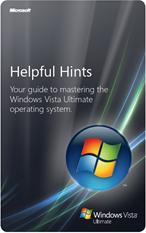 Windows Vista Ultimate users, who do not know how to take full advantage of the superior features come with the operating system, can refer to "Windows Vista Ultimate – Helpful Hints" book published by Microsoft. "Windows Vista Ultimate Helpful Hints" provides tips, tricks and guide to master the Windows Vista Ultimate operating system.

"Windows Vista Ultimate Helpful Hints" PDF e-Book is 9MB in size, and contains 17 pages with images. The books cover every topics related to using Windows Vista Ultimate, with contents from as basic as starting computer and using keyboard and mouse, to doing various tasks such as faxing, emailing, managing pictures or creating video productively, networking, security, and gaming options.
Note that the book is geared towards Windows Vista Ultimate edition, so for users with Home Premium or other 'lesser' editions, now all features are available.
Download Windows Vista Ultimate Helpful Hints: tips_and_tricks_ultimate.pdf