Windows Vista is released commercially for retail purchase in stores' shelves since January 30th, 2007 onwards. And good Samaritans (or pirates) have spent $422.99 ($399.99 plus sales tax of $23.00) to buy the 32bit and 64bit (x86 and x64) edition of Windows Vista Ultimate DVD media, and the rip the Windows Vista Ultimate DVD disc as ISO image and distribute the Windows Vista Ultimate full retail release DVD image via BitTorrent P2P network for everybody to download. The retail release of Windows Vista should be also the RTM release of Windows Vista, where one of the popularly shared edition of Windows Vista RTM is MSDN version.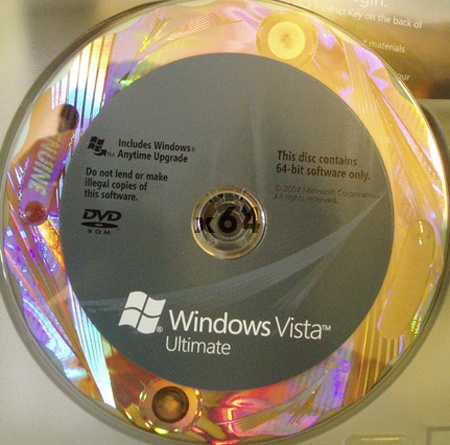 All Windows Vista DVD media are almost the same or similar regardless of which version (upgrade, full or OEM) or edition (Starter, Home Basic, Home Premium, Business or Ultimate) of Windows Vista your purchased, probably as part of Windows Anytime Upgrade program. The only thing that matters is Windows Vista product key which will determine which version and edition of Vista you can use, activate and validate with WGA. So you can use this Windows Vista Ultimate DVD ISO image to install any edition of Windows Vista edition you want.
Download Windows Vista Ultimate x86 Retail DVD torrent: -_Demonoid.com_-Windows_Vista_x86_Ultimate_Retail_DVD_2959189.9422.torrent
Lightscribe DVD Label: http://rapidshare.com/files/14828877/x86_cdlabel.std
DVD Image Regular Label: http://rapidshare.com/files/14829106/x86_cdlabel.tif
MD5: 3c92294c17a59f616acd1d7de8d9cd98
SHA1SUM: 5ecd1b7c296bee774957d36dd230dc7bdbae3b02
Torrent contains case_01.jpg, case_02.jpg and LRMCFRE_EN_DVD.iso files.
Download Windows Vista Ultimate x64 Retail DVD: _=Demonoid.com=_-Windows_Vista_Ultimate_x64_Retail_DVD_2959189.9422
Lightscribe DVD Label: http://rapidshare.com/files/14833308/x64_cdlabel.std
DVD Image Regular Label: http://rapidshare.com/files/14833126/x64_cdlabel.tif
MD5: e3f1bc7d550924665f3f57f257b03a99
SHA1: d0dfaaf206e78ac9f89d1bd38bc740f47a75e4b3
Torrent contains case01og2.jpg, case02xx3iy1.jpg, LRMCXFRE_EN_DVD.iso, LRMCXFRE_EN_DVD.md5 and x64.jpg.
Check out here for system requirements for Windows Vista. x64 Windows Vista Ultimate requires 64-bit processor or CPU, which includes:
AMD Processors [also known as AMD64 or x86-64] (Athlon 64, *Opteron, Sempron 64, and Turion 64)
Intel Processors [also known as Intel64 or EMT64] (Core 2 Duo, *Xeon, Pentium D, Pentium Extreme Edition, *Pentium 4, and *Celeron D)
* Some model from the processor series might not support 64-bit instruction.
The downloads do not contains any crack or serial product key. To activate Windows Vista, you have to purchase Windows Vista license and be given a genuine valid product key. Else you can temporarily instead without any serial key for evaluation usage up to 120 days (by rearm up to 3 times) or search for anti WPA or activation crack for Windows Vista.