Previously we mentioned about CompareMyDocs online service that can compare documents and merge comments, but if you feel the need to have a similar utility to be installed on your desktop so that you can use it even when it is offline, this powerful utility will be able to help you. Named as WinMerge, it can help to analyze and compare the document change, and allow you to decide if those changes should be merged by simple clicks.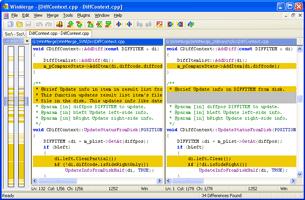 Once install and launch the utility, users will be brought to an interface with two panes appeared on the screen. Basically the operation is quite straight forward, just open and browse for the respective files for text comparison and those deltas between the files will be highlighted with exact paragraph being colored and displayed on both left and right panes. At any time, users are allowed to merge the difference by copying the contents from the right pane to left or vice-verse. That is not all, there is a way to compare the folders (or even subfolders) contents besides allowing users to manage the folders more systematically. Some other functions include the use of plugins, filters as well as customized configurations will definitely make it a great one-stop solution for those professionals, technical writers or document owners that deal a lot with collateral editing and folder maintenance.
For those who are interested, just get a free download from sourceforge.net and comprehensive quick start guide is also available in the package when you download the utility.