Tired of not getting your Bluetooth devices sync up when you are far out from your PC? Now there is a solution for you. Wireless Cable Inc. has unveiled a high power USB Bluetooth adapter known as AIRcable Host XR that can go up to 30km radius.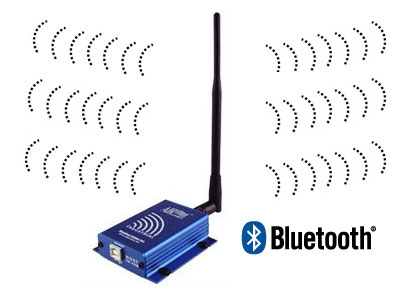 Equipped with a high power Bluetooth transmitter and different antenna types, it outperformed other standard Bluetooth adapters in terms of coverage area that it could reach. Typically standard Bluetooth adapters can reach no more than 10 meter and the usefulness of it has been limited. And now with the standard antenna that is included in the package, it has able to extend the range to 1km. Besides, it has options of using 9dBi omni-directional or 18dBi directional antennas with ranges of 2km and 10km respectively. If this is not sufficient, user can install a directional patch antenna for up to 30km range with professional installation.
Example of some applications that can benefit from this is making skype calls using Bluetooth headset through your PC. Now you can walk away from your room to the yard without losing its connection. Meanwhile, you can have the same capability of web searching on your PDA even if you don't have WiFi enabled. Bluetooth consumes less power as compared to WiFi Technology that extend the operation hours of the devices.
It can be setup easily by just plugging the Bluetooth adapter to your PC USB port. It is supported by Windows, Linux and Mac Operating Systems. However, for those older Windows OS that do not have pre-installed Bluetooth software, you will need to get the Bluetooth stacks/drivers in order for it to work.