DisplayLink technology is famous for its flexibility and expandability utilizing existing USB ports replacing conventional display ports such as VGA or DVI for multiple video output. Although it is no longer something new and has been integrated into some end products such as projector, docking station and famous consumer electronics products, Witech, a Korean company has just unveiled a new Dual USB Video Card, named as Multi-I that features with this new technology targeted for multi-screens users.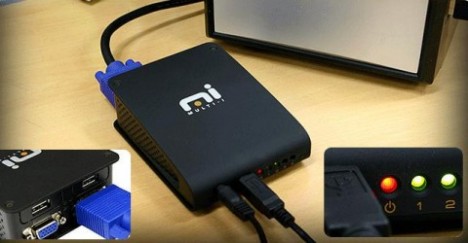 The Witech Multi-I consists of two D-sub VGA connectors that users can connect to each individual LCD for multiple displays simultaneously. On another end, there is a USB-B that is compatible with any users' PC system. Surprisingly, it can scale up to maximum of 1400 X 1050 resolution per video display without any bandwidth limitation on USB 2.0 ports (theoretically 480Mbps). Good thing is, if you think two monitors are not sufficient for your daily usage, there is a way to daisy-chain few of them together through USB-A ports on the device to cater for more LCD usages at any time. Just imagine now you can have one screen for web browsing, another one for email checking, and one more to play your favorite movie series for a true multi-tasking activities effectively.
The device is already available for purchase in Korea market. At a retail price of $115, it is quite a good deal considering the convenience and expandability that it can provide to users as well as great compatibility with both Windows and Mac OS systems.