Intel has released a pair of new processors to its Core i7 line up, named as Core i7-975 and Core i7-940. According to the source, the Core i7-975 is claimed to be the world's fastest desktop processor. Both of the processors are targeted to replace its predecessors, which are Core i7-965 Extreme that runs at 3.2GHz and the Core i7-940 that runs at 2.93 GHz.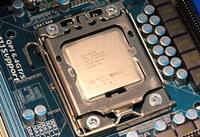 The Core i7-975 which will operate at a base clock of 3.33 GHz, while the Core i7-950 is runs at 3.06 GHz. Beside that, both of these chips are also use a new DO stepping which will offer lower power consumption and improved the overclocking capability as compared to the original Core i7s.
The cool-running 3.3GHz Intel Core i7-975 Extreme edition is now available for the price of $1000 with quad core.