USI, a leading DMS company, has announced the world's thinnest Mobile Internet Device (MID), i.e. MID-160. The device is based on the Intel Atom processor. The MID-160 shows good example that USI's expertise in miniaturization technologies and systems integration, and make it possible for consumers to carry the full Internet in their pockets.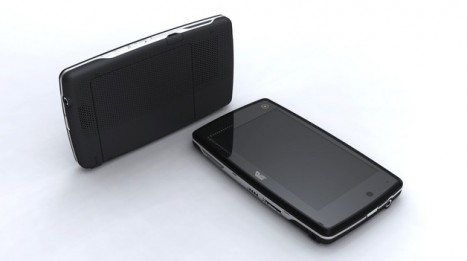 The MID-160 features 5-inch 800×480 pixel touch screen with 167,000 colors. The device weighs 250 g and is 1.5 cm thick. To date, the MID-160 is the thinnest MID launched in the world. It comes with an 8GB solid state disk (SSD), a microphone and instant communication software. With that, users can communicate on the Internet anywhere at any time.
In order to make the MID thin and light, MID-160 uses an in-house small footprint WiMAX SiP (system in package), a dual-band WiFi/WiMAX module, and a world smallest 3G module (GTM501) from Option. The new Intel Atom processor enables the best Internet experience in pocketable mobile Internet devices. It was designed to help make the Internet on small devices possible and for energy efficiency.
With this in-pocket device, users can enjoy a PC-like internet experience including browsing the Internet with Flash and latest web technologies, connect with families and friends and enjoy full access to rich email including attachments.
MID160 Specifications
Processor : Intel Atom Processor
Display : 5-inch touch screen
Memory : 512MB
Operating System : Ubuntu Linux
Hard Disk : 8GB SSD
Wireless : Supports WiFi 802.11b/g, Bluetooth, GPS, HSDPA or WiMAX
Weight : 250g
Others : 3.5 Mic or headset jack, Docking port, Micro SD Slot, SIM slot, Front-facing web cam,  Ambient light sensor (Top-right), Capacitive 'home' button (Top left)