Mobile phones are slowly replacing fixed line conventional telephones in consumers' home with greater advantages of mobility and convenience. If you have decided to terminate your landline but still want to have the same experience of making or answering calls through home telephone, then these new products developed by Xtreme Technology will be able to help you. Named as XLink, it can serve as a cellular Bluetooth gateway that allows the mobile calls to be routed to conventional telephone system for faster access to users.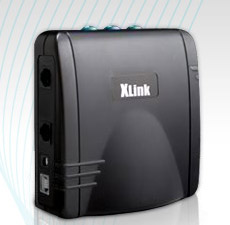 There are two models, namely XLink BT and XLink BTTN available with slight different functionality. The BT model is limited with connectivity targeted for three mobile phones usage while BTTN features an additional connection for landline or VOIP (Voice over Internet Protocol) box. Both of them utilize Bluetooth wireless technology so there is no hard wired needed at all. Just imagine, now home users can just leave their mobile phones (up to three individual lines) anywhere within the Bluetooth coverage at home and they can answer to them through the conventional or cordless home phone. Good thing is, since it is using standard telephone jack, users can have it connect to home answering machine just like conventional telephone system.
Priced at $80 and $110 respectively, both of them are already available for order now.