Apple iPod appears like a strip down version without 3G cellular network capability as compared to iPhone. And have you ever wonder if there is a way to add this back to your iPod so that you can enjoy additional cellular voice and data usage without being limited by the Cupertino based company. The recently announced add-on accessory kit from Yosion Technology, a China based company is exactly what you are looking for. Named as Apple Peel 520, it is specifically designed to fit well on iPod touch to provide additional features that was not included initially, making it a more powerful smartphone device without spending extra money to upgrade to a new one.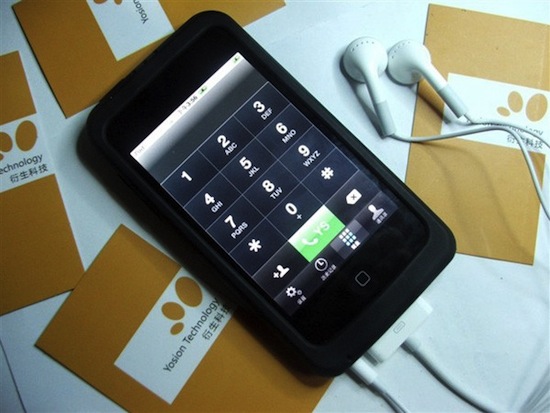 Internally, the case is equipped with a PCB (Printed Circuit board) integrated with Infineon baseband processor that is able to hook up to cellular network to provide 3G voice and data usage. Besides, it has an additional 800mAh battery that is claimed to be able to provide extra standby and talk time with up to 120 hours and 4.5 hours respectively. However, it does have some drawbacks and one of the most notable one is the lack of front facing camera that being added into iPhone 4 recently. Besides, in order to enjoy full feature offered by Apple Peel 520, you will need to jailbreak the set with Yosion and YsSMS apps for it to work properly. Furthermore, since it is designed in China, the menu interface is currently in Chinese only so the accessory may not really suitable for other geographic areas at this moment.
Apple Peel 520 is available now which costs around 388RMB (equivalent to $57.33) and when combined with a 64GB iPod Touch (priced around $399), it totals up to be around $460 which is still much more cheaper and economic than a 32GB iPhone 4 at $650 (estimated price but may vary based on different service provider).